Handy tips for RVers with limited mobility
If you struggle with mobility issues, there are ways to make camping easier and more fun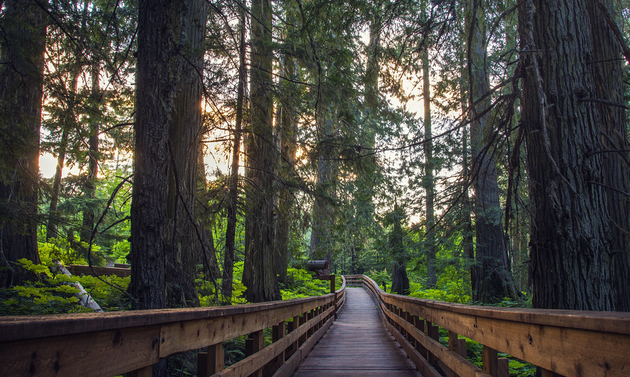 For nearly a quarter of us, chronic pain and mobility challenges can put a damper on recreational activities. You might find yourself wondering if people with limited mobility can still enjoy the RV lifestyle to its fullest extent. The answer is a resounding yes! These are a few ideas to help make your RV excursions more fun and painless.
Invest in some gadgets
The RV world is filled with inventive gadgets to make camping more convenient - be sure to make good use of those! There are lifts and bars to help with going up and down RV steps, and other clever adaptive gear.
If you are completely in love with the RV life, and can afford an extra-large "gadget", you could even save up for a fully accessible RV unit. Newmar's Canyon Star 3911 is decked out with all the bells and whistles, including built-in wheelchair lifts and a roll-in shower.
Give yourself alternative plans
You may not know from one day to the next how you will be feeling. When scheduling activities, try to include a "plan B" for each, in case you're not up for the original plan. Choose campsites surrounded by natural beauty, so you can sit outside your RV and still experience the glorious outdoors, even if you weren't up for a hike that day.
Take the easy road
Whether you're hiking on foot, or exploring a woodland trail from a wheelchair, it's best to choose easy paved walking trails or boardwalks. You want even, flat ground to ensure your safety and prevent a fall. Many parks have clearly marked wheelchair-accessible routes.
If you are on foot...make sure you know how long the trail is before setting out, so you don't find yourself exhausted when you have to walk back. Loops are ideal for this reason.
Choose an accessible campground
Depending on your needs, you may want to plan ahead and ensure your desired campsite will have the accessibility and space that you require.
Check out this website for a list of Canada's wheelchair-accessible campgrounds.
Be kind to yourself
It can be incredibly frustrating to live with disabilities, and sometimes it's tempting to be hard on yourself or to push yourself too far. It's vital to be your own best friend. Remind yourself that your limits don't define you, and that new solutions are always becoming available. It's ok if you can't do that winery tour today, or if you need to spend the afternoon napping in your unit. Be gentle with your body, and it will be more apt to co-operate when you want to take on an activity.
Do you have a trick that helps you overcome your mobility limits or other health-related challenges while on the road? Please feel free to shoot us an email, we would love to share your ideas.