Useful tips for Canadian snowbirds
Are you a Canadian travelling south for the winter? Prepare for your winter excursion with this checklist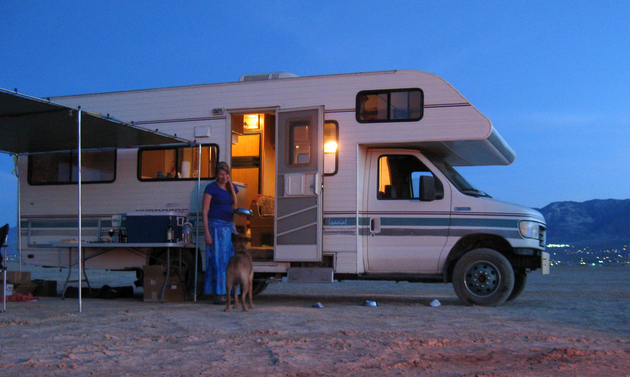 A great deal of planning goes into every RV holiday - especially if you're a snowbird. Each year, a number of Canadian RVers head south of the border to escape the winter chill. If you plan to take up this adventurous lifestyle, have a peek at these tips to make your travel as worry-free as possible.
Find out what you're allowed to bring across the U.S. border
When travelling to the U.S.A., be aware of what you can legally bring across the border (and also what you're allowed to bring back home to Canada). There are regulations in place that prohibit certain items, and for some purchases, you may need to pay duty. There are exemptions that you'll need to know about, as well.
This article details some of the common border-crossing questions that Canadian snowbirds have raised.
Border laws can also change over the years, so it's important to have the most up-to-date information. If you have specific questions about current border regulations, visit the Canada Border Services Agency and the U.S. Customs and Border Protection sites.
Learn the limits of your health insurance
Before leaving Canada, it's important to know if your provincial health insurance will cover you while you're in the U.S.
Go over your plan and make sure you have the right coverage for the length of trip you wish to take, that your prescriptions can be extended if necessary, etc. This will prevent a nasty surprise expense in the unfortunate event that you should require medical assistance while out of the country.
Know how long you can stay in the U.S.
If you stay in the U.S. longer than 180 days, you may have to file a U.S. income tax report. Some Canadians may avoid this by filing a specific form with the IRS, but each case is different. Be sure to educate yourself on the laws and how they apply to your individual situation.
It's prudent to check your passport and other documentation, and renew anything necessary long before you are due to leave.
Find out about the current legislation on this topic, by visiting the IRS website.
Set yourself up financially
Depending on where you plan to stay, you may have limited internet connectivity. Make sure you arrange/pre-authorize any necessary online banking transactions, so that you don't have to fret about missed payments if you decide to RV in a location without Wi-Fi.
You may also decide to cancel your telephone, cable and Internet services temporarily, as you won't be using these services for several months.
Have someone check on the home front
If you're going to be away for an extended period, it's good to have a trusted friend or family member stop by to check on the place. They can make sure the home is secure, and pick up any stray flyers or newspapers that might be piling up. Keep in contact with them, and your mind will be at ease knowing your home base is in safe hands.
Don't forget to have your mail forwarded!
Prepare your house before leaving
It pays to winterize your home before your departure - ensure your gutters are cleared, and that the roof is in good shape to handle a large load of snow (if this applies to your area). You won't be there to do routine maintenance and repairs over the cold season, so it's best to prevent incidents ahead of time. You might want to hire someone to shovel snow in your absence. You should also unplug all electronics and appliances, if possible.
Equip your vehicle for winter conditions
Although you are heading to an arid climate, you may still have to navigate Canadian winter driving conditions on the way home. Have your vehicle tuned up and ready, stock up on winter supplies such as antifreeze (which may not be available for purchase in balmy snowbird destinations) and invest in a roadside assistance membership.
If you are looking for more tips, check out Lynne Benjamin's Snowbirding 101 column, and this informative article by Insurance Hotline.