Drive for show and putt for dough: How to shave 15 strokes off your game
Rob Tourond offers tips on how to shave 15 strokes off your 100+ scoring golf game this year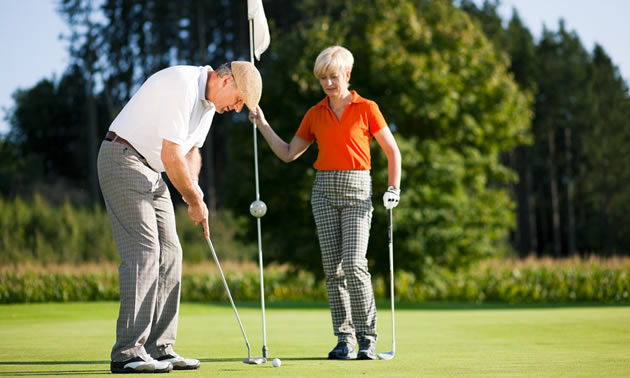 According to Rob Tourond, "Ninety per cent of golfers score above 100 strokes on 18 holes of golf. Of those select 10 per cent that break 100, 50 per cent are liars or can't count. Of the remaining five per cent under 100, fewer than one per cent regularly score par."
I think retired teaching professional Tourond just called me a liar. Ouch.
Tourond graduated from Grant MacEwan golf management program at the top of his class. He now lives in St. Albert, Alberta, and he helped me improve my game with a series of lessons a few years back. I still maintain I broke 100, at least once.
"If you're in the 90 per cent where most golfers score, you have plenty of upside to get below 100," Tourond said. "Give me a golfer scoring over 100, and I'll help them shave 15 points off their game in a season."
The good news is the trip from above 100 to below can be fun and fast with the right instruction and practice. Coaches and instructors can see things that you as a player cannot see yourself, and it gives them the ability to observe and advise the best way to improve your hits.
"Where you fall as a player will determine where to focus the effort," said Tourond. "Think about your game in chunks. Separate it into tee shot, long irons and woods, mid irons, wedges, and chipping and putting."
Tourond said that trimming as much as 30 strokes on 18 holes for a 100+ golfer is doable in a season––it starts with cutting three or more strokes on each of those five areas of the game. This requires instruction and practice. A golfer scoring between 100 and 85 requires narrower focus. There might be only one or two areas from which to shave strokes.
Tourond has this advice for golfers with the goal of breaking 100 in 2018:
Tee shot: Take less than 1.6 seconds to start you swing, or step away and start again. If every third shot ends up in the rough, focus on staying in the middle of the fairway. If you regularly slice your ball, adjust your stance and play your favourite shot to your advantage and keep the ball in the middle of the fairway. You want to teach yourself the swing from start to finish as reflex. You can't overthink this or it won't work.
Long irons and woods: Treat this like a giant putt, play to the centre of the fairway, and try to land the ball in the middle of the green. Forget about the flag until you are putting.
Mid irons: Practise with these irons until you can consistently get on the green.
Wedges: Think of these clubs in terms of 10-yard increments from 50 to 110. Treat these clubs like a pendulum. Expert level instruction will help you get effective use of your wedges in the last 100 yards to the green. Let the club to the work. Loft is the club's responsibility—trying to help it do its job will only top the ball.
Chipping and putting: Remember, 36 strokes of a game are putts, exactly half of 72 par. If you can hit the green in regulation and learn to putt in two strokes, then you are well on your way to par play. Don't fuss about the pin—it's always buried behind a bunker.
My Dad's advice was "drive for show and putt for dough."
"Learn to play under pressure. Don't think of it as a whole game," Tourond said. "Take it shot by shot."
Sounds easy, doesn't it? A few strokes off each hole and presto, you are under 100. A bit of instruction and a couple of games a week and you're heading below 85. It is time to polish the clubs and dig the caked mud out of your cleats. While you're at it, call the clubhouse, book a tee time and set up a coaching session with a pro. Maybe this should be the year to commit to take your game to the next level.