Top 5 ways for RVers to save money
These money-saving travel tips will help you get the most out of your next RV trip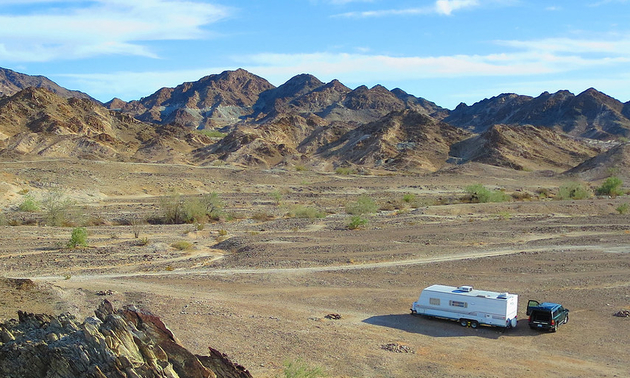 Most experienced RVers are already great at space-saving and time management - let's maximize your budget too! Follow these tips to get the best bang for your buck when you're on the road.
1. Comparison shop for campsites, or go boondocking
Always compare campgrounds to make sure you're getting the best site for the lowest price. Online deals and RV club memberships can add an even deeper discount if you find the right ones. We suggest Good Sam, Escapees and Harvest Hosts.
Alternatively, you can simply find a free public space and go boondocking. Also referred to as "dry camping", boondocking allows you to camp for a minimal cost or even for free, on designated public land. There is usually a limit on how many days you can stay, and there won't be any hook-ups, so be sure to come prepared.
2. Cook your own meals instead of going out
Most RVs come equipped with a kitchen, so make the most of it. Buying food from restaurants can quickly add up to an enormous expense.
Instead, take advantage of local farmers markets and buy fresh ingredients to make your own culinary treats.
3. Time your trip for shoulder season
For retirees and others with more open schedules, you don't have to stick to summer camping. The difference between peak season campground rates and shoulder season rates can be surprisingly huge.
Take a look at your desired campsite and plan to go when the prices are lower. Some people prefer shoulder season for other reasons, too. The campgrounds are less crowded, and you may encounter cooler weather, which is ideal for those who don't like the sweltering heat of summer.
4. Take on a part-time job
Some parks hire seasonal staff to help manage their campgrounds, and this can present an opportunity for savvy travellers to make a few extra bucks.
You could also take on a work-from-home position, and use your laptop to get the job done no matter where you are physically located.
5. Become a DIY master
There are few things more satisfying than learning how to do your own repairs and maintenance. Save yourself the cost of hiring a professional, and improve your knowledge of your RV unit. There are several places to learn these skills, including YouTube instructional videos and seminars hosted at RV shows.
For some excellent technical information, check out our RV Tech Talk articles provided by expert Reg DeYoung.