Preparing your RV for winter
It takes careful planning and cunning execution to prevent Old Man Winter from sneaking in to freeze your pipes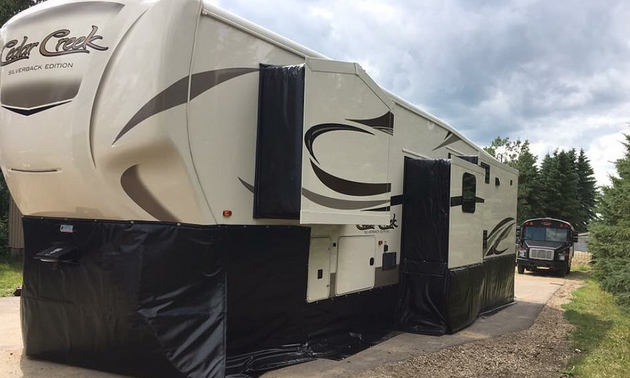 Northerners love their RVs. While some of us just want to push our RV season out a bit––a weekend or two to before the May long, and one after Thanksgiving––there are hard-core RVers who face northern winter full-time, and do it successfully.
What is an RVer to do?
Using your RV all winter where temperatures can drop to -40 on either scale, requires significant modifications and thoughtful additions to your trailer or coach. Here is solid, hard-earned advice to get you started.
Wally Young went RVing for several winters in Fort McMurray, Alberta.
"There are no quick fixes," said Young, a heavy-duty mechanic who lived year-round 25 kilometres north of Fort McMurray where the temperature regularly dips below -40 C.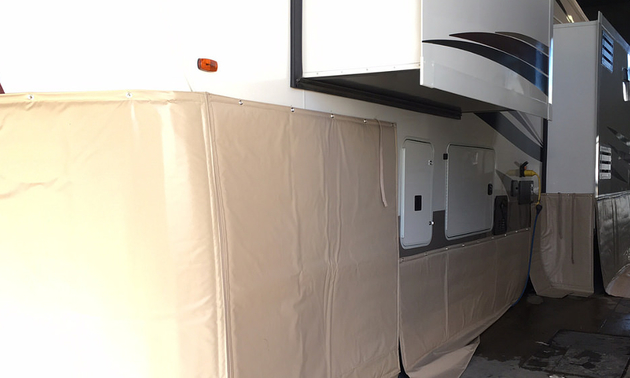 He modified his 36-foot, toy-hauler fifth-wheel well beyond the stock winter package, and set up permanent living in a park with full services. The toy hauler's 'garage' allowed him to dump his work boots and coveralls when he arrived home, keeping the living area clean. That was where he kept his deep-freeze to save money on groceries, and reduce trips to town.
He recalls replacing a furnace motor at ten o'clock one frigid night. After that, he kept a spare motor and heat switch in the trailer. Young noted that sometimes parts are tough to come by, especially in the off-season when living remotely. Plan ahead––Young learned many lessons that first year including a couple of freeze-ups, despite insulating everything imaginable.
Young says, "the whole thing was a learning experience."
What follows is advice based on Young's adventure, augmented with RV expert input. (Yes, we know that Fort Mac is just one snowbird (the ptarmigan) destination, but if you can set up your RV here, you can set up your RV for winter anywhere.)
Buy the best cold-weather package available
For those of us who want to extend our season a week or two in the spring or fall, enclosed tanks and under floor heating will help with that. Enclosed holding tanks are good to -5C but the temperature must rise above zero at some point during the day.
Being below zero for more than 24 hours is a problem. Because of how they are built, fifth-wheels are better set up than travel trailers for snow-birding. Fifth-wheels are easier to control on slippery roads, and the ability to enclose the space under the hitch tips the scales toward fifth-wheel format. It is advisable to buy the best insulated trailer you can find, choose the maximum BTU output furnace, and be realistic about what you can expect from your factory trailer.
Snap on a skirt
Trailer skirting is the first step to prepare for the cold and a custom skirting package is ideal. Every pipe-liner who lives and works from their RV all winter has skirting installed, but a growing number of RVers in northern climates are considering skirting too.
Insulated skirting keeps the belly of the trailer warm, helps prevent sewer and inlet pipes from freezing, and provides additional storage space. Skirting helps keep the trailer floor warm, and reduces the heat required to keep your RV toasty in the winter.
Insulate: Keeping Old Man Winter out
There are no truly (northern) four-season capable recreation trailers available. If you're going to use your RV full-time in winter up north there are several modifications required. After installing a skirt, look for additional areas to protect from cold. Add styrofoam insulation to storage compartment doors and vents. Place plastic film or Tuck Tape and astro-foil insulation on the windows. Some folks prefer this method even though it blocks the light.
Young covered windows with clipped-on Plexiglas. Think about where Old Man Winter can sneak in and block him from those areas with Styrofoam insulation. This requires a well-thought-out battle-plan.
Some folks build elaborate porches with extensive use of Tuck Tape and Styrofoam insulation for additional cold protection and expanded storage/living space.
What about water?
Water inlet and pump require special care, as do sewer pipes. That last four inches to the wall in addition to anything exposed to the outside air is at risk of freezing. Relocate the waterline inside, cutting a hole in the cupboard floor. This will fix the water inlet freezing problem. Apply heat tape to all water and sewer lines. Enclose the outdoor shower in a heated compartment or disconnect it completely for winter. Many full-time RVers have hard pipes installed for waste water.
With this arrangement, tank dump valves can be left open.
Dehumidify
Once you surround your trailer with insulation, you will require a dehumidifier. Hanging ball dehumidifiers are recommended and require daily emptying.
Leave the cupboard doors open to allow air circulation and use a fan to move warm air throughout the trailer. Keeping Warm Keeping the cold out is half of the equation. Keeping the RV heated––all winter––the other half. Winter RVs burn a lot of propane.
Consider purchasing a propane 'Pig.' This beast of a propane tank can be filled on a suitable schedule. Avoid using electric heaters for supplemental heat because the gas furnace needs to run to push heated air into the floor the compartment. Now, get out there The 'Git R' Done' philosophy of winter campers is obvious in the innovative solutions employed for successful winter RVing. The pioneer spirit is alive and well with winter RV set-ups. After all, if we didn't love it here, we would move somewhere else. Right?