Tech Talk: RV wheel bearings 101
This is one maintenance job you don't want to forget . . . or you might find yourself stranded on the roadside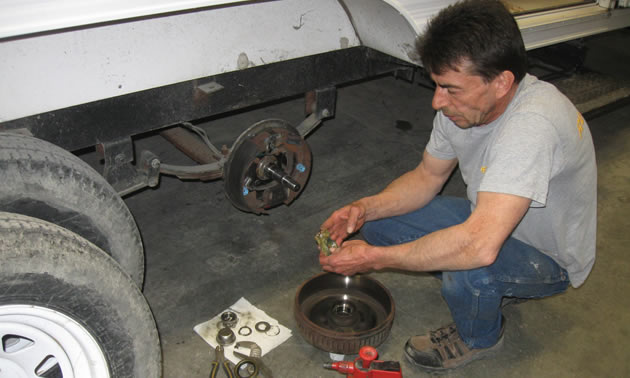 Avoid a wheel bearing failure that can leave you stranded on the roadside by knowing the trouble signs

Include a wheel bearing repack in your annual maintenance for your travel trailer or fifth wheel

Carry a complete wheel bearing kit in your RV so you or a qualified technician can do the repair if replacement is needed
Many RV parts or components require routine inspections or servicing, but with wheel bearings a great vacation adventure is literally "riding on them."
A wheel bearing failure is one of the leading causes of RV roadside repairs. It is not only an inconvenience but can create a very dangerous situation that can result in loss of control, a fire, an accident, serious injury or death.
More than 35 per cent of bearing failures can be attributed to improper lubrication. The cost of labour and parts for this preventative maintenance procedure can be considered an investment with respects to the repair costs incurred with damaged components, not to mention the frustrating downtime on a well-deserved vacation.
All axle manufacturers strongly recommend an annual repack of wheel bearings as scheduled maintenance.
The wheel bearings on your RV axle are a tapered configuration and basically have two functions: to support the trailer loaded weight when parked or travelling down the highway and to allow the wheels to turn with the least amount of friction.
Know the signs when your RV wheel bearings are on their last legs
In most cases, RVs are parked in the off-season, and without proper scheduled maintenance, condensation can be a factor. Rust can form inside the bearing assembly, and when travelling the rust will start to scratch the bearing roller surface, which will cause excess friction and heat. This will eventually lead to fatigue, disintegration of the wheel bearing and welding of the centre of the bearing to the spindle. The axle and brake assembly also will be destroyed in many cases.
The first sign of trouble for most RV owners will be a rumbling, grinding or squealing sound or smoke emitting from the wheel. Worst of all is that feeling you get when another motorist pulls up, flashing their lights and pointing back to your trailer.
You can increase your line of defence by purchasing an infrared temperature gun to accurately display temperature differentials between each wheel hub assembly during your daily excursions.
Tips for DIY wheel bearing repacks
If you decide to complete a wheel bearing repack yourself, there are safety precautions that must be taken. For proper stabilization of the trailer, use quality jack stands that are rated to the weight of your trailer. Never place the hydraulic jack under the axle during lifting, as damage can occur in regards to the preset camber engineered by the manufacturers.
Never spin a wheel bearing with compressed air. Serious injury can occur if the rollers explode from the bearing case assembly.
The grease installed in the wheel bearing provides a thin film between the contact areas in a bearing to reduce friction, dissipate heat and inhibit corrosion on the rollers and races. The grease has two ingredients: the lubricant and a thickener, which gives the grease its consistency that will hold it in place next to the moving parts. It is basically a metal soap that can be lithium, sodium or calcium. These elements are not always compatible with each other and should never be mixed to avoid adverse effects.
The wheel seal is an important part of the hub assembly and protects the bearings from dirt, debris and other materials. Never reuse wheel seals or cotter pins.
Carry a wheel bearing kit in your travel trailer or fifth wheel
Even if you are not a DIYer, a great tip is to always carry a complete wheel bearing kit with all the parts and tools required to do a roadside repair. That way you have the parts readily available for a qualified service technician to get you safely back on the road. Or if you are confident, you can do the wheel bearing repack yourself.