Accessories for your RV
RV accessories should be small and easy to store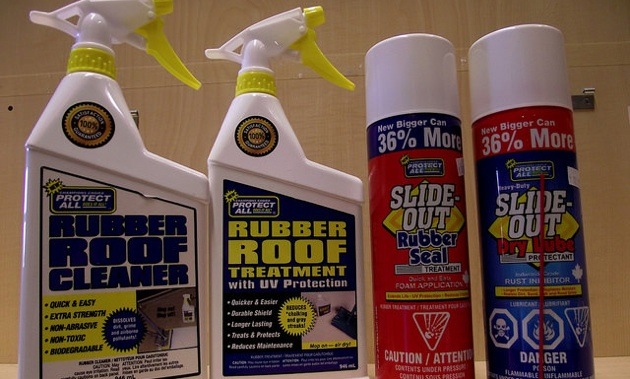 There are some really great items available at your local RV parts store. Whether you're choosing an RV-related gift for someone else or you're looking to simplify your life on the road, keep in mind limitations of space and weight. Your choices should be small and easy to store. Go online to your local RV dealership to have a look at the many products available.
Roof vent covers:
These easy-to-install covers will insulate and block sunlight, moonlight and streetlights from your RV interior.
Can be left open in rain and will provide additional circulation of air to your coach.
Patio rugs
Reversible outdoor mats can be used for your RV or patio, or at the beach.
Can be cleaned easily and folds to a compact size for storage.
Fire extinguisher
The compact design of these fire extinguishers provide economical fire suppression for use in RVs, boats and vehicles.
A tri class unit is best, as it's effective against all three common classes of fires (A, B and C).
Folding assist handles
Unfolds and locks into open position or folds and locks towards RV door for a travel position.
Available in either powder coated aluminum or stainless steel.
Slide-out protectants
Dry lubricant will lubricate and protect the slide out assembly including gears, support arms and cables.
Rubber seal treatment will condition the seal to prevent fading, cracking and deterioration from UV rays.
Camco Little Red Campfire
Great for use when fire restrictions are in place.
Sturdy lid and security latches make this product safe and easy to transport.
Wheel chocks
These durable chocks can be used alone or interlock together.
Keep your RV in place so you can rehitch easier.
Water pressure regulators
Protects water system from higher than normal water pressures.
Preset to 50 PSI and includes an inlet screen.
Awning saver clamps
Protects your awning from costly rips and tears while preventing noisy wind flapping.
Easy and quick to install.
RV surge protectors
Protects your RV from power surges, over/under voltage, mis-wired pedestals or open neutrals.
Available in hardwire and portable models.