A bad day fishing is better than the best day at work
British Columbia has so many places to explore and so many lakes to fish.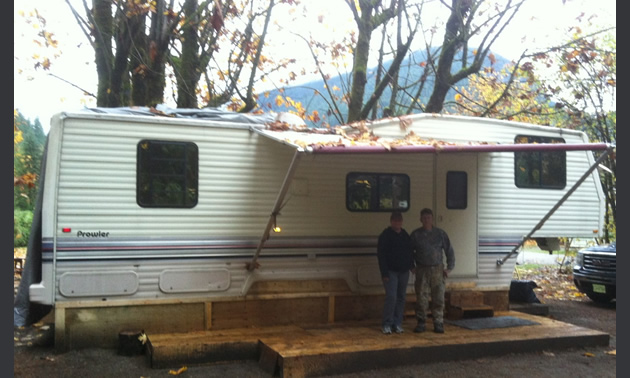 What RV model do you currently own?
We currently own a 1992 Prowler. It's 30 feet in length and in excellent condition, with all new appliances. Due to its age the main interior colour is dusty rose!
How does RVing allow for quality time with the whole family?
Simply because we are all together and we all love RVing. Every trip is an adventure. We love exploring the Hope, British Columbia, area and we use our trailer as a base camp at Othello Tunnels RV Campground.
Are there certain destinations you have not travelled to yet that you would like to experience?
We would love to go straight across every province in Canada, stopping in all the great touristy places. But we are saving that for our retirement.
Any advice you would like to give parents to encourage family outings?
Exploring the outdoors is a great way to connect with family, as most places don't have internet. You are not competing with today's technology and social media distractions.
What's your RVing philosophy?
A bad day of fishing is still better than the best day at work!
Is there any advice you'd like to offer anyone considering RVing?
Just to consider all the many places you can see. Whether you like to fish or hunt or just like to relax with a glass of wine in front of a toasty fire, RVing offers something for everyone.
What kinds of activities does your family partake in while RVing?
We fish, hunt, hike and ride our bicycles. We also enjoy quadding and 4X4ing.
What are some important lessons you have learned from RVing?
Life is too short to stay home all the time. British Columbia has so many places to explore and too many lakes to fish. We are trying to hit them all! When we are camping out in our RV there isn't anything to do but relax and enjoy life.
How do you plan your RV adventures?
Some of our RV trips are by word of mouth from friends and family. But a lot of them we just up and go on a whim to check out new places.