RV rentals in Western Canada
Take a tour of Western Canada's provinces, by renting an RV for a reasonable cost.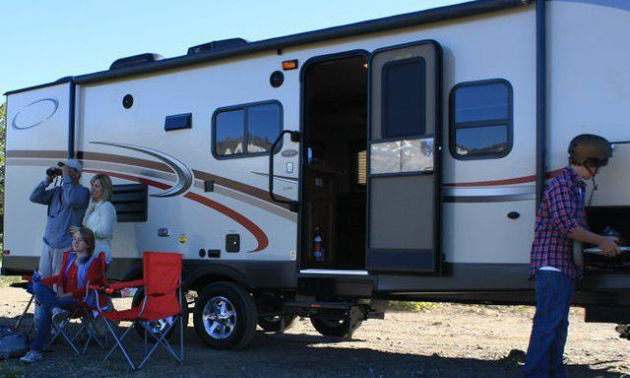 If you're visiting Western Canada, you will want to take a tour of our famously scenic provinces! A popular way to do so, is to hop into an RV unit and set off on a camping adventure.
Not sure if RV camping is right for you? Many new campers decide to test out the lifestyle by finding an RV for rent in their chosen destination. Whether you are interested in motorhome rentals, or heading out in a fifth-wheel trailer or camper van, you will see that RV rental is an exciting and affordable option. Try renting a unit from one of these companies and see for yourself why so many people are in love with this mode of travel:
Canada-wide locations
CanaDream Inc.
Various locations throughout Canada
www.canadream.com
1-888-480-9726
Fraserway RV
Various locations throughout Canada
www.fraserway.com/
1-877-747-7947
Traveland RV Supercenter
Locations in B.C. and Alberta
www.travelandrvcanada.com
1-800-922-6326
West Coast Mountain Campers
Various locations throughout Canada
http://wcmcampers.com/
1-888-878-3200

British Columbia
British Columbia is blessed with some of Canada's most attractive campgrounds, RV parks and resorts, and there are plenty of B.C. RV rental companies available. From Vancouver to the Okanagan, you can find the motorhome or trailer rental to help you embrace your adventure.
Fisher Peak Camping and Trailer Rentals
Cranbrook, British Columbia
fisherpeakcamping.com
250-581-2090
Arbutus RV & Marine Sales Ltd.
Various locations on Vancouver Island, B.C.
www.arbutusrv.ca
1-800-665-5581
Big Boy's Toys Ltd.
Nanoose Bay, British Columbia
www.bigboystoys.ca
1-800-492-2869
Chemo RV Sales & Service Ltd.
Locations in 150 Mile House and Quesnel, British Columbia
www.chemoRV.ca
250-296-4411

Alberta
Rent an RV in Alberta for a one-of-a-kind travel experience. Get to know this province from behind the wheel of a motorhome, fifth-wheel or even a vintage Boler trailer—there are ample rental businesses to accommodate all types of campers. Try renting an RV in Calgary or Edmonton, and taking it to Banff, Lake Louise, or one of the many other recreation-packed camping areas that Alberta is known for.
Canadian Leisure RV
Calgary, Alberta
http://www.canadianleisurerv.com/
1-800-669-5855
Carefree Coach & RV
Edmonton, Alberta
http://www.carefreerv.ca/
1-877-217-2008
Affordable RV
Calgary, Alberta
http://www.affordablerv.com/
1-800-567-7519
Edmonton R.V. Service
Edmonton, Alberta
http://www.edmontonrv.com
780-469-7019
Northern Lights Vacations
Edmonton, Alberta
http://www.northernlightsvacations.com/
780-944-9169
Uncle Ben's RV and Auto/Go RV & Marine
Red Deer and Leduc, Alberta
http://www.unclebensrv.com/
1-800-300-8551
Saskatchewan
Saskatchewan has numerous campers for rent, and the businesses listed here can help you find the right model for you. You can rent an RV and head across the Prairies, to beautiful Saskatoon or one of Saskatchewan's numerous recreational parks.
Eagle Ridge RV Rentals
North Battleford, Saskatchewan
http://www.eagleridgerentals.ca/Pages/default.aspx
306-441-7875
Great Blue Heron RV Rentals & Sales
http://greatblueheronrv.ca/
Locations throughout Saskatchewan
306-292-7748
Great Excursions Co. Inc.
Regina, Saskatchewan
http://www.greatexcursions.com
1-866-975-8687
Aspendos Sports
Saskatoon, Saskatchewan
http://www.aspendossports.ca
[email protected]