Canyon Creek: a Script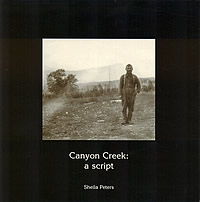 The Wet'suwet'en Indians live in and around the communities of Burns Lake, Houston, Smithers and Hazleton in northwestern British Columbia. Along with their western neighbours, the Gitksan, they launched a court case claiming ownership and jurisdiction of their traditional territories that resulted in the ground-breaking Delgamuukw decision of the Supreme Court of Canada in the fall of 1997.
Canyon Creek: A Script, by Sheila Peters, tells the disturbing story of the eviction of a Wet'suwet'en family from its homesite near Smithers in 1920. It has a foreword by Darlene Glaim-Buchholz (Gyologet), a Wet'suwet'en hereditary chief.
By telling one family's story, Canyon Creek: A Script demonstrates how the early surveying and mapping of British Columbia had far-reaching consequences on both native and non-native residents. It identifies the impact of Canadian and B.C. land use policies on First Nations communities and puts the present status of aboriginal land claims and self-government in a historical context.
Canyon Creek: A Script's innovative design was developed collaboratively by Dorothy Giesbrecht, Megan Hobson and the author. It includes many archival photographs and drawings by Hobson.