Roaming roots: A Canadian-American family follows their travel dreams
After navigating lockdowns and other unexpected hiccups, the Love Life Abroad family is still on the move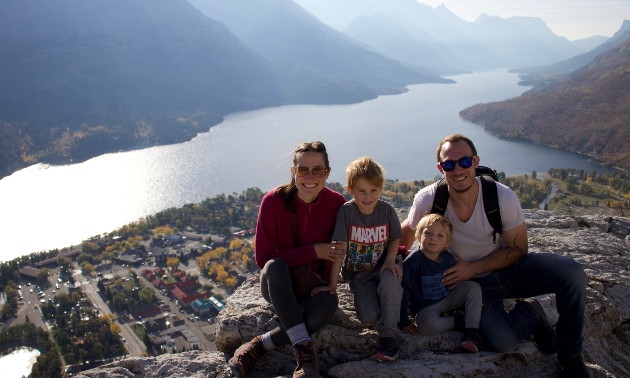 Emilie Brillon is a writer and adventurer—travelling with her husband, Nathan, and their two boys. She is the voice behind a popular blog you may have heard of, called Love Life Abroad.
The blog offers handy tips and tricks, itineraries and advice for those new to RVing or travel in general. They even list some of the destinations they've visited (spoiler alert: they don't just stay in North America!)
We spoke with Brillon about her family's experiences with the RV lifestyle, and she was happy to fill us in: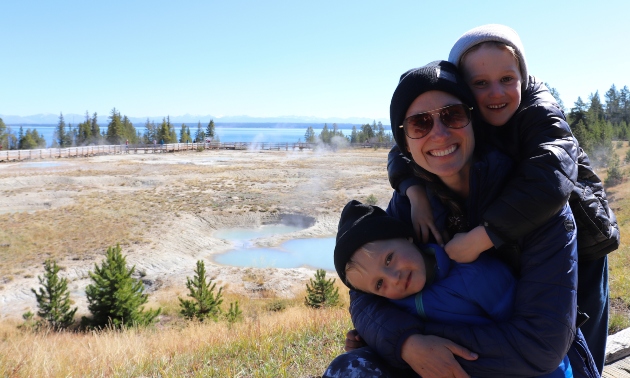 - Photo courtesy Emilie Brillon
Can you tell me a bit about yourself and your family?
We are the Love Life Abroad family, an outdoor travel family of road trip lovers. We are a Canadian-American family raising adventurous, bilingual little boys (who rarely run out of energy!)
In 2020, we had this big plan of travelling the world with our two kids. They were 18 months and 3.5 years old at the time. We sold our house, quit our jobs, sold most of our things and had our one-way ticket to Paris. And then, the world went into a global lockdown.
We decided to trade our world tour for a Canada and western USA road trip. We planned our trip within a few weeks and had no concrete plans. We had our small car and a few bags.
We drove all the way to Victoria, BC, spent a winter in the Canadian Rockies, drove down to California and road tripped across Western USA, before finding our new home—based in the Canadian Rockies.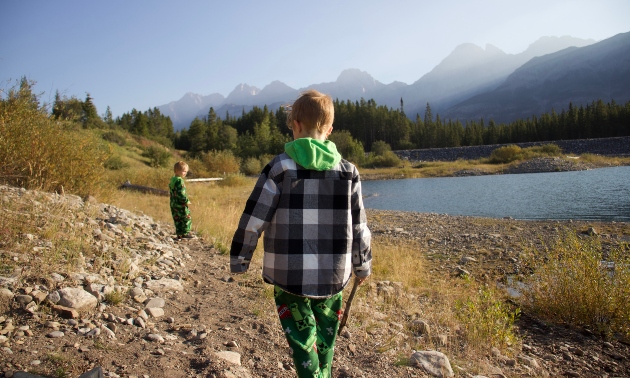 - Photo courtesy Emilie Brillon
When did you start getting into the RV lifestyle?
It all started when my sister and her husband visited us in the Canadian Rockies. We did a Calgary-Banff-Jasper road trip. We had our car and were staying in hostels, while my sister and her husband rented a campervan instead.
I'll always remember driving along the Icefields Parkway. It was mid-April and we were driving really slowly in a snowstorm. Halfway through the drive, when we were approaching the Saskatchewan River Crossing, the snow stopped and the sun came out.
We parked at a rest stop, took the chairs out of the rented campervan and brewed some fresh coffee and hot chocolate. At this exact moment, my oldest son asked me:
"Can we have an auto-maison (house-on-wheels in French)?"
It was our introduction to van life. And at this point, I knew I wanted to try the van life with my boys.
A few months later, when staying a few months in California with my husband's family, we bought a passenger van that we would convert into a small family campervan.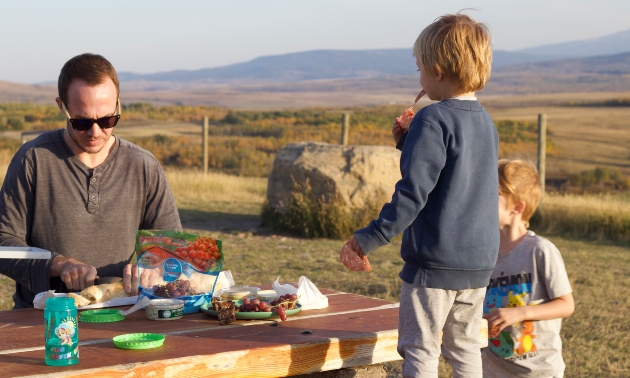 - Photo courtesy Emilie Brillon
What type of unit do you travel in now?
We bought a passenger van in spring 2021 and slowly converted it to a family campervan. It's nothing fancy, it's not Instagram-ready, nor suited to full-time, but it's perfect for us. It's our own little glamping unit! The conversion process wasn't super easy trying to juggle work and kids, but it turned out fine.
We love the flexibility the small size of our van offers when it comes to road trips. We can park pretty much everywhere. Plus, I feel comfortable driving it and taking the kids by myself anytime I can.
Where do you like to go RVing?
We love road trips and visiting national parks. But we are also really spontaneous. It's really hard for me to think about booking campgrounds for the summer when we're in the midst of winter here in Canada in January. So we often don't score many national park campgrounds.
But with some flexibility, we are often able to find last-minute spots. For example, we were able to stay in a campground in Banff National Park at the end of August without any reservation. With our small campervan, we can fit everywhere, so it opens up more options. And we rarely need full hookups. Same thing happened when we did our Western USA road trip. We travelled for five weeks and had nothing booked in advance. We had to stay in hotels a few times, but otherwise, we found campgrounds pretty much everywhere including in Yellowstone National Park.
If there are mountains, a lake and a hike to do, we're happy. We love camping to be outside and in nature. And surprisingly, it's so much easier with the kids, than (it is) at home.
We have yet to try dispersed camping, but it's our plan for the next camping season. We just need to figure out the internet (since we both work remotely).
Otherwise, we are members of Harvest Host and we love this type of camping. We get to visit a new place, learn, taste local products and in exchange, we have a free place to stay overnight. Our boys loved our stay at a bison farm in Idaho.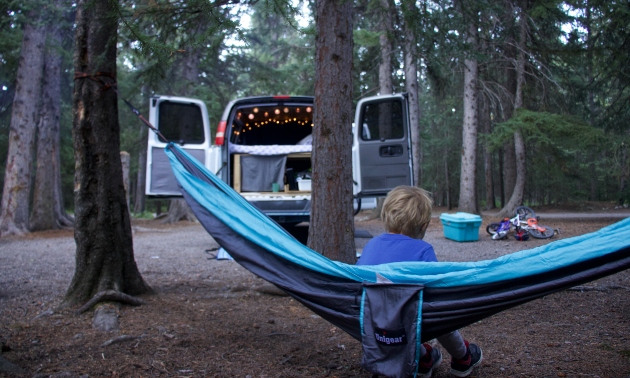 - Photo courtesy Emilie Brillon
What are some of your favourite activities to do with the kids while you're camping?
We love camping because we are outside. There is nothing better than waking up in the woods, starting a fire early in the morning to warm up and enjoying a warm coffee while the kids are playing in the dirt. Of course, for the kids, a camping evening wouldn't be a success if there are no fires and s'mores.
Unless it's for a family and friend gathering, we rarely stay put at the campground. We love exploring the surroundings, going on a hike or paddleboarding.
One of my favourite quotes is, "At the end of the day, your feet should be dirty, your hair messy and your eyes sparkling." And this is exactly how we feel when we are camping with our boys.
Do you RV full-time?
We are not full-time RVers. We did travel full-time for almost 18 months, and it included a part of full-time van life in the summer. For now, we love having our home-base in the Canadian Rockies, but it's in the plan to do another full-time travel adventure and this time it will be with a campervan.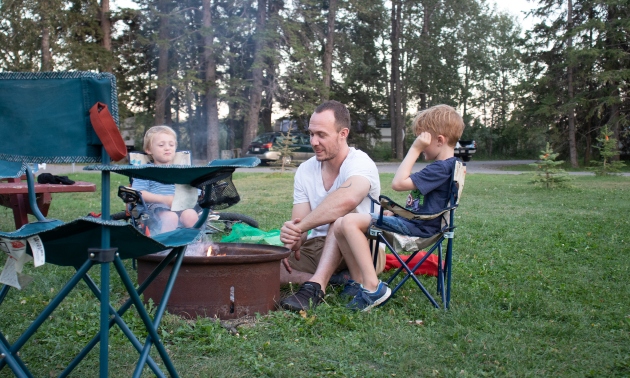 - Photo courtesy Emilie Brillon
What are your future travel plans?
We are planning a Nevada campervan road trip this spring to visit a few national parks and state parks. My husband and I both visited Las Vegas for work a few years back, but we're hoping to explore all the beautiful natural surroundings with our boys.
Then, we are planning another cross-country road trip in the summer to go see my family back in Quebec. We've hoping to explore the Northern USA on this trip.
We'd also really love to escape the Canadian winter for a winter road trip and RVing where it's warmer, but this is just an idea at this point, no fixed plans yet.
But stay tuned, as our ideas rarely stay ideas-only for long
Follow the Brillon family on Instagram @lovelife_abroad or on their blog Love Life Abroad.