Flying south for the winter
Pete and Jan Naccarato from Jaffray, B.C., love spending their winters in the sun-soaked state of Arizona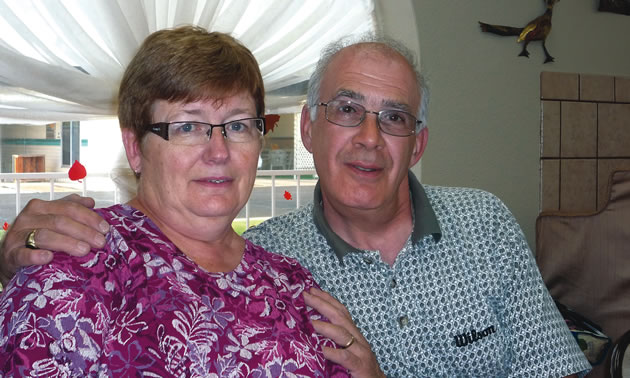 Like the flock of Canada geese that were honking in the background during my interview, Pete and Jan Naccarato were preparing to head south for the winter. It was late October when we spoke, and by the time this story is published, the couple will be soaking up the Arizona sun, sporting even tans, while the rest of us turn as white as the snow falling outside our windows. Needless to say, this couple have got it figured out.
Pete, 63, is a part-time truck driver and Jan, 64, is a retired schoolteacher from Fernie, B.C. The couple live on Rosen Lake in the town of Jaffray in southeastern B.C., with two dogs and a cat; they have two grown children—and will soon be grandparents. In their younger days, the Naccaratos enjoyed camping in B.C. and Montana in a tent or in the back of a truck. In July of this year, they decided to rekindle their love of camping and purchased a 28-foot Mallard travel trailer. It was a little late in the season for them to go on many trips with it this year, but next summer, they want to spend more time camping in B.C.'s East Kootenay region and maybe travel to Yellowstone National Park. For the next six months, however, the Naccaratos will be in Yuma, Arizona, at the OG RV Resort Park.
It was five years ago when the couple purchased a trailer sight unseen and spent their first winter at the OG RV Resort Park. Since then, Yuma has become the Naccaratos' second home. Jan said the city really caters to snowbirds, adding that it's amazing how much the population of Yuma swells during the months of January and February.
With only 146 sites, the OG RV Resort Park is one of the smaller RV parks in the area but that is why the Naccaratos like it. They said they have formed friendships with other visitors in the park and have met people from all over Canada.
Whether it's a game of horseshoes or a round of golf, Pete said, there is never a shortage of fun activities to try in Yuma.
"If you get down to Yuma and you're bored, there's something wrong with you," he said. "There's always something going on every weekend, or even during the week."
Pete spends his time exploring the many bike paths through Yuma and Jan likes to quilt.
Many adventures in life
The Naccaratos said they have found that it's easier to leave their trailer at the park in Yuma and travel down by car. Their route from Jaffray to Yuma usually takes them through Salt Lake City, Utah, and Laughlin and Las Vegas in Nevada.
"Last year we went down the Oregon-California coast to do something different and it was pretty neat," said Jan.
Over the years, the couple have visited Grand Canyon National Park, Bryce Canyon National Park, Moab and the Valley of Fire State Park. The couple have also been to Europe and they have even gone RVing in New Zealand.
"That's something to see," said Pete. "We did some camping over there on the North and South Island (of New Zealand)."
They rented a mini motorhome, Pete said, and the scenery along the way was beautiful—but he mentioned that driving in New Zealand can be somewhat tricky.
"When it tells you 60 kilometres to the next town you think, well, that's just from Fernie to Cranbrook—but it takes you about three hours to get there," he said, "because the roads are so windy."
It's the snowbirding lifestyle that appeals to this couple the most, though.
"It's like you're on a big, long holiday," said Jan.
When I asked Pete if they had any tips for other couples who are thinking of taking up the snowbirding lifestyle, he said, "Just have a good attitude."