Happy with their lot in life
The benefits of buying a lot for your RV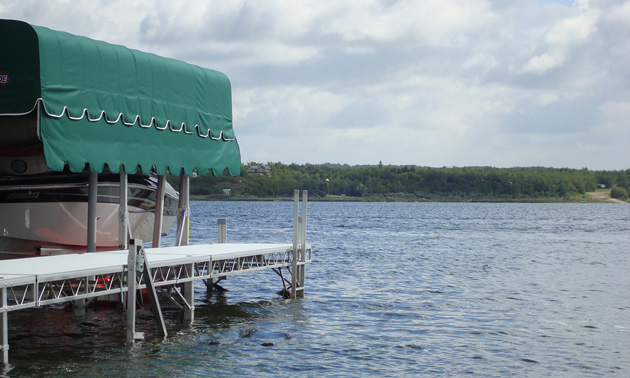 When Ed Engelking and his partner Kristina Mullen set out to look for a lakefront spot where their family could unwind during the summer, they originally searched for a lot where they could build a four-season home. At Alberta's Lake Sante, where the couple already had friends with waterfront properties, they stumbled upon Tranquility Bay.
This full-service RV resort located northeast of Edmonton has a full-time groundskeeper, community hall, beach, playground, laundry, community garden and even an open field where guests visiting for the weekend could park their own RVs.
"The whole thing was we wanted to have a lake lot," said Engelking from his home in Edmonton. "We wanted to have that whole cabin-on-the-lake atmosphere and have an actual place to go. But we didn't want to pay three-quarters of a million dollars for a lake lot alone, and we didn't want to have to spend Friday, Saturday and half of Sunday doing the necessary yard work that would come with owning a place before we could even start enjoying it."
After parking a 36-foot trailer, the family added a shed, a large deck, a fire pit and a small canvas garage to their quads, motorbike and Sea-Doo to the lot. They also have their own private dock and boat lift. In short, the property that has everything Engelking and Mullen and their three children could possibly need, and all they have to do is pack clothes and groceries, and they're ready for a weekend of family fun.
Easy to relax
"We don't have to go out and pick the trailer up for the weekend, hook up, make sure we have a reservation somewhere, pack the trailer, stow everything away for transporting, and then drive somewhere, only to have to set up before we can unwind," said Mullen.
"It's simply a matter of--throw our clothes and some weenies in the car and we're ready to rock, and as soon as we get there we can just crack a bottle of wine and enjoy the weekend."
The other options, said Mullen, are more work than they're worth.
"Whether you have a cabin that you have to do grounds maintenance on, or you head out to go camping, come Friday night you're working hard just to relax. I much prefer to do it this way."
Positives outweigh the pitfalls
For some, the downfall of owning this type of property might be the sense of community and the many rules needed to be abided by, including some architectural ones that have been put in place to make communal living palatable. But for both Engelking and Mullen, the benefits of low maintenance and a beautifully controlled view, as well as friends to hang out with each weekend, far outweigh any negative.
So convenient do the couple find all the amenities their RV lot has to offer that they've forever given up on the idea of ever building their own cabin.
"If you have a cabin," said Mullen, "you have two full households to maintain. This way we have very little maintenance, most of which is done for us. And if we want to buy a bigger trailer or a fifth wheel, relatively speaking it's a cheaper alternative to just sell our old trailer and get a new one than it would be to renovate or update a cabin."
In the end, says Engelking, it all comes down to the benefit their RV lot offers them.
"We're at a clean, beautiful lake that we love that offers us the best of both worlds," said Engelking. "If we want to go camping elsewhere, we can hook up the trailer and head out, but if we'd rather just stay in one place then we have the option to do so all summer long."