Dancing cheek to cheek
Those who think retirees lose the exuberance and passion of youth haven't met Jeanne and Frank Reynolds
by Tanya Laing Gahr —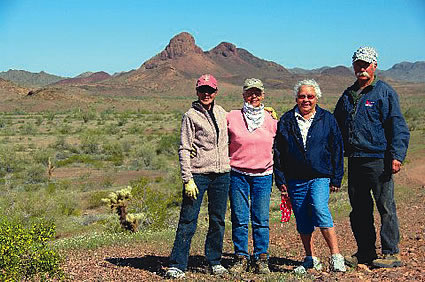 Now, this is a true story.
Thus begins any tale that Frank Reynolds tells that isn't strictly the truth. At least, that's the warning from his wife, Jeanne.
"He always says I do all the talking but that isn't true," laughed Jeanne. "But usually, unless he says it's a true story, you can believe him."
Frank is just following the famous advice of Mark Twain: Never let the truth get in the way of a good story. And according to their friends, Frank has a lot of good stories to tell. But perhaps his active imagination is just keeping up with the rest of him.
Jeanne and Frank are very active retirees. The business cards they hand out read: "Consulting available for agriculture, hockey, horticulture, curling, dress making, golf, millwright (and) hunting." And that list doesn't cover the full spectrum.
Frank and Jeanne, who live on a farm near Sherwood Park, Alberta, are part of the annual snowbird migration, and for the last three years, their southern nesting ground has been near Bouse, Arizona. They had been hauling their fifth wheel behind them every year for the past five years—escaping the bitter winters that tear through central Alberta—through Nevada, Arizona and down into the Baja.
Three years ago, they were introduced through another couple to a group of Canadian RVers who have made Bouse their centre of operations, including Lorene and Lyle Williams (see Blazing Their Own Trail, RVwest, November/December 2008). The rapport was instantaneous and several fast friendships were made.
"We have a great bunch in our campground down there," said Frank. "They're all very co-operative and they'll help you out if you have a problem."
From farmers to free spirits
The Reynoldses have been married for almost 55 years. They met when Jeanne was 18, shortly after she moved from Ontario. When I asked her what it was about Frank that she liked back then, she laughed.
"Then, he was kind of shy and quiet," she said. "He's changed somewhat."
For most of their marriage, the couple were far too busy to take extended holidays. Frank worked construction and farmed, so most of their time away was restricted to camping on weekends with their four children.
"We started out with a tent and then we had a camper," said Jeanne, "and we thought we really had the world by the tail then. We'd go to the lake (where Frank) taught all the kids how to water-ski."
For 51 years, the Reynoldses have lived in the house they built on Frank's family farm. Several years ago, they sold most of the land but kept seven acres and started to take the longer holidays they couldn't have before they retired.
Some of the early long hauls included trips out east to visit with Jeanne's family, but they hadn't yet committed to becoming dedicated RVers. But there was a lot about the lifestyle that suited them.
"I like camping and we decided we were going to go RVing," said Jeanne. "We went on one cruise but I enjoyed it more than Frank did—he likes to have his feet on the ground."
Exploring the boundaries
Eventually, the couple started taking more trips south of the border where the famous Arizona winters were welcoming.
Since meeting the Bouse-based RVers, Jeanne and Frank have become a regular part of a group of ATVers who take their quads out in the desert to ride old mining trails or just to ramble through the brush.
"We'll load our quads up and might go 50 to 80 miles," said Frank. "Usually we just go out from camp but two or three times a year, we'll load up the quads and go to different areas."
But Frank and Jeanne aren't content to sit around afterwards. While the rest of the party might be pooped, the Reynoldses are still raring to go.
"In the daytime we (ride our ATVs) and go dancing in the evening," said Jeanne. "But we can't get any of those other old folks to go with us."
Can you keep up?
To be fair to "those other old folks," the Reynoldses might be hard to keep up with. Jeanne curls regularly in the winter and Frank is a serious hockey player—so serious, in fact, that he has travelled to locations all over the world to take part in various tournaments, including Australia, Japan, Scotland, Germany, Holland, France and Hawaii. He played several times in the annual event organized by cartoonist Charles Schultz, Snoopy's Senior World Hockey Tournament. And since he didn't end the list with "and that's a true story," I'm inclined to believe him.
Frank still plays three times a week with the Sherwood Park Senior Lancers. Every October, he takes part in the Harvest Hockey Jamboree, a four-day oldtimers' hockey tournament held in Vernon, B.C. Each participant is put on a team based on their age and the position they play.
"(There are) four teams with people 65 and over, four teams of 70 and over, and four teams of 75 and over," said Frank. "You don't know who you're playing with until you get there." Frank doesn't see anything out of the ordinary with the pace that he and Jeanne set for themselves. His philosophy is that everyone finds the level of activity that they are comfortable with.
"People are different," he said. "Some people down there go golfing five or six times a week. And there's a softball league (made up of Canadian snowbirds) that's big in the Yuma and Phoenix area."
Jeanne said their point of view is quite simple and is what keeps them going south every winter to dance, trailblaze and spend time with friends who have become very dear to them.
"We like it and we thought as long as our health is pretty good, we should be doing it," she said.