Alone with the Brave
Journeying solo in her Winnebago Brave, 24-year-old Elizabeth Johnson spent three months exploring North America—and discovering herself
by Kali Love —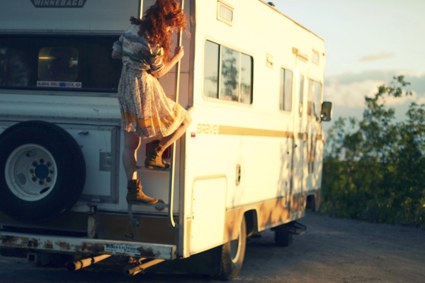 Over the course of Elizabeth Johnson's three-month journey, numerous people followed her blog and wrote to her with admiration, claiming that they wished they were RVing across Canada and the United States but for some reason they couldn't. This left Johnson confused.
"So many people said to me that they could never do what I did and I was like, 'why?' " said Johnson, "I don't understand why—just go, just do it."
A growing affection
Slightly inclined towards the adventurous, Johnson grew up in Anchorage, Alaska, and RVing has always been a part of her life. When Johnson was little, her family packed her up with their belongings and they set off for an RVing trip through the Grand Canyon. Similarly, in 2007, her family embarked on an RV trip across the United States. It was then that Johnson became infatuated with Winnebago Brave motorhomes.
"I thought they were so cute," said Johnson. "They had this personality that was unrivalled by any other motorhome that I had come across and I started falling in love with them."
Johnson decided to put her desire to own a Winnebago Brave to the side and focus on university instead. She left Alaska and enrolled in a bachelor of arts program with a focus in printmaking at Washington State University. Upon graduation, she applied for graduate school, but it took Johnson only a short time to realize that this wasn't her true passion.
"When I sat down and asked myself, 'If I could do anything, what would I do?' " said Johnson, "the obvious answer to me was to get a vintage '70s Winnebago Brave and drive around the country in it."
Following the path that beckoned
Consequently, Johnson left graduate school behind and moved back to Alaska to live with her parents and save money for her dream trip. In September 2010, after working tirelessly for nine months, Johnson had saved enough money and found the perfect Winnebago Brave. She bid her family goodbye, told them she was taking the family dog, a Jack Russell terrier named Little Bit, for company, and at the age of 24, Johnson set off with her Brave for the adventure of her life.
Because she had previously travelled south along the Alaska Highway, Johnson chose to take the ferry from Haines, Alaska, to Prince Rupert, B.C., and then drove down the west coast of B.C. From there she went through the southern states of Arizona and Texas. Then to switch it up, Johnson travelled to Georgia. She followed the Gulf Coast and headed westward until she got to Tacoma, Washington—where she is currently living.
Delightfully different
Johnson said choosing to go on this trip was the best decision she had ever made in her entire life. She said the trip really helped to solidify her independence and her personality, which she describes as delightfully tacky. This is also the name of her blog.
"I was doodling on some uphosltery on the couch in my living room and I wrote delightfully tacky," said Johnson. "I felt that it described my taste. I have always had a liking for kitschy '70s things, which culminates in the Winnebago. It is like the ultimate embodiment of delightful tackiness and I have always liked tacky things. That phrase describes who I am."
Currently, Johnson is working as a part-time barista and for an online company doing blog design. Her Winnebago Brave is parked at the moment, but she said she is getting homesick for it and is hoping to take a trip to the Olympic Peninsula in Washington this summer. As for a bigger journey, Johnson is waiting until she finds someone to go with.
"Another reason that I went on the trip is that I had always wanted to go on a trip like that for my honeymoon," said Johnson. "I had no prospects, so I was like, 'Well, screw it, I am just going to go by myself; I don't need a guy,' but I think I would really like to go on a big cross-country trip again for a honeymoon. I think that would be a really fun trip, so possibly in the future that will be a big trip for me."