Getting together for the love of Bolers
Marwayne, Alberta, will host the 2012 meeting of Prairie Boler enthusiasts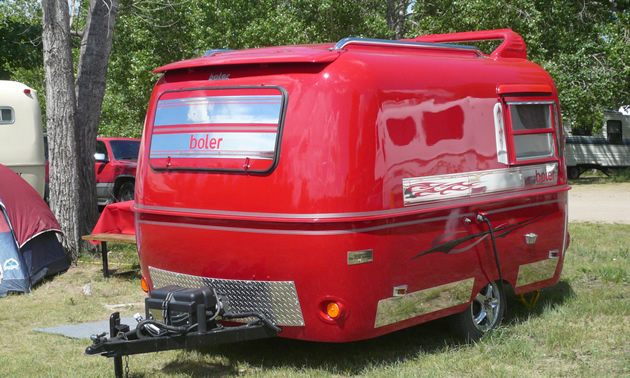 Lisa and Paul Vanderwiel made the transition from a tent to a trailer after a torrential downpour ruined their camping holiday.
"I have limited holidays and they're always at bad times of the year," said Lisa. "This particular time it was pouring rain. We couldn't get our tent set up. We couldn't have dinner and we slept in the back of our vehicle. It was a miserable time, so we drove to Edmonton to go camping in a hotel instead."
But fate had something in store for the Vanderwiels. While in Edmonton they spied a cute little egg-shaped trailer, and for Lisa it was love at first sight.
"I just could not believe how cute and practical and well-appointed and organized it was," said Lisa. "I just had to have one."
The birth of the Boler craze
Boler trailers were originally designed by Roy Olecko and manfactured in Manitoba. They were wildly popular in the 1970s for their lightweight fibreglass design. In 1978, after reaching peak production levels of upwards of four units per day, 220 days a year at a plant located in Earlton, Ontario, production was ceased on the Boler, leaving only 7,000 to 10,000 trailers in circulation.
Despite the odds, the Vanderwiels were able to find one for sale in their hometown of Saskatoon less than a week after they returned from their vacation, and they bought it as quick as they could. The only trouble was, like many other Bolers out there, this one would need a little work. But where to turn to for advice and ideas on a trailer that hadn't been manufactured for nearly two decades?
"There were quite a few things we had questions about," said Lisa. "Because they're old, you don't exactly want to do it the wrong way or go around breaking things, so we headed online to look for some advice."
And they found—absolutely nothing.
"In this day and age, we'd think 'What? How can that be?' " said Lisa. "But back in the late '90s there really was nothing to be found on them. And trust me, I searched."
Left no recourse but to jump online herself, Lisa quickly learned how to build a simple website and launched Bolerama.org with the intention of attracting other Boler owners who had knowledge to share.
Lisa soon began having emails roll in one right after the other; most were from other Boler owners looking for information. When the number of emails started to exceed 20 a day, Lisa headed back to her computer to create a free Boler-inspired forum, where fans of the little trailer could connect, swap information, post ideas and pictures of modifications they had made, share advice and list where parts had been sourced or manufactured. In short, it was a place where they could all talk about the little "eggs" they had become obsessed about.
"It is an obsession," said Lisa. "I think it's a common thing with a lot of the vintage trailers, because they often need work—and soon it starts to become a labour of love, especially when someone picks a theme for their trailer and then goes nuts with it."
Since most Bolers measure a mere 13 feet in length (though there is a 17-foot model), picking a theme and fully decking out a trailer doesn't usually cost owners a fortune, said Lisa.
Gathering eggs
With connections now firmly established across the country and excitement building over the themes and modifications being implemented, a bevy of Boler owners decided that the next logical step to would be to meet face to face at what would become a series of annual gatherings.
"It started through that first forum that I made," said Lisa, "when the Ontario people decided that they would have a gathering. After that a few of us started on the forum here in the West, saying we should do the same thing. And so we had our very first one (in 2001) and we had a tiny, little turnout of about 18 to 20 trailers down at the Saskatchewan Landing near Swift Current. It was really great, especially when we never really thought anyone would come."
Today, the Prairie Egg Gathering, as it has come to be known, boasts upwards of 75 trailers in attendance and has become an annual event for the Boler-obsessed. They love not only the camaraderie but also the show-and-tell portion of the weekend, when trailers open up for tours.
"That's the highlight for me," said Lisa, "because it kind of gives you a little inspiration and boldness to try out some of the ideas, or come up with new ones of your own to share. So the ideas you get are amazing, especially storage ideas and how people are able to pack it all in."
While Lisa and her husband now also own a vintage Airstream—a unit they use for the majority of their camping excursions today—their little, trusty Boler is never far from their hearts or their minds.
"The Boler comes out for Boler meets and if I'm ever going somewhere by myself," said Lisa, "and that's one of the reasons I love this little trailer so much. Even if my husband isn't with me, I can manage this trailer. I'm pretty pathetic when it comes to backing it up, but if I'm having a really tough time I can always unhook it and just push it into its spot."
Lisa said she could never part with her Boler.
"I know it's badly in need of a new paint job," she said, "but I love it and I always think, 'oh, what can I do with it next?'—which is something I don't think of with the Airstream. The Airstream is done—what am I going to change with it? But with the Boler, changing it up and redecorating is half the fun."