Walk on the wild side
Discovery Wildlife Park in Innisfail, Alberta is the perfect place to relax and connect with wildlife
by Trina Ayling —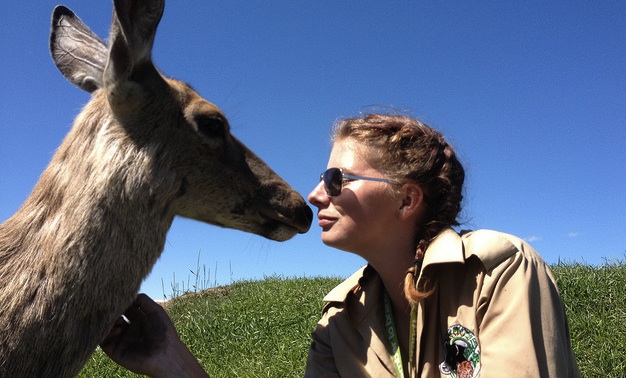 When Doug Bos and Debbi Rowland began breeding specialty animals in Clive, Alberta, in 1990, they never imagined that by 2015 they'd be the owners/operators of Discovery Wildlife Park, home to over 150 animals ranging from native bears to exotic jaguars.
"We started out raising unique species of animals, such as pot-bellied pigs and fainting goats," Rowland explained. "Soon Alberta Environmental and Sustainable Resource Development began bringing us wild orphans–bears, coyotes, deer, etc."
Following the closure of the Alberta Game Farm in 1992, Bos and Rowland added zebras, big cats, a giraffe and a number of other non-native species to their growing family of local orphans.
By 2003, the couple had moved operations to a 36-hectare (90-acre) plot in Innisfail, Alberta, where they employ two full-time animal trainers, Ruth LaBarge and Serena Bos. With over 45 years experience, LaBarge has trained many different species of animals, specializing in bears. Serena, Doug's daughter, is head zookeeper and has experience working with a number of world-renowned trainers. Having grown up caring for animals most of her life, Serena said working with animals has always been what she has wanted to do.
According to Serena, there are a number of important benefits to providing proper training for their animals. "We have trained our cats and bears to open their mouths for a visual tooth exam, accept regular inoculations, have their claws trimmed, and wounds or other anomalies examined and treated," she said. "This reduces the stress on the animal and allows the keepers to take better care of them."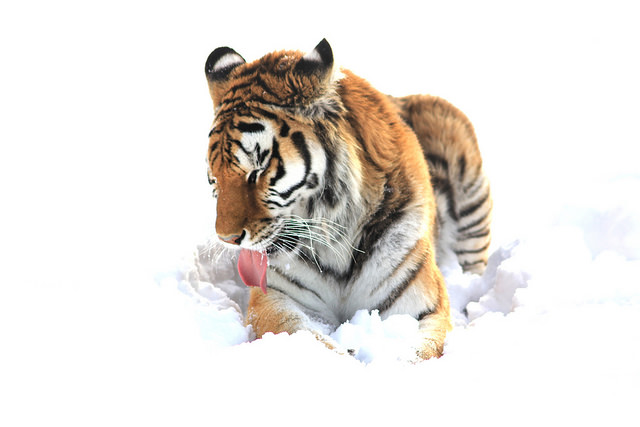 Serena added that their bears are currently being trained to provide voluntary blood draws for research purposes, providing researchers with healthy baselines to compare against wild bear populations.
Because it is not possible to duplicate an animal's natural environment, the animal training also offers mental and physical stimulation and is considered the highest form of enrichment for animals in captivity. Training encourages the animals to think, move and interact, keeping them interested in what's going on around them. They also enjoy receiving the food rewards for a job well done.
While not a focus for the park, a number of the park animals have appeared in movies, television dramas, commercials and wildlife shows like Canadian Geographic and Untamed North America, a French film documentary.
These acting gigs are a welcome revenue source for Discovery Wildlife Park as the park is self-sustaining and does not receive funding from any government agency. Revenues go toward year-round caregiving, housing, feed and medical care.
In order to generate needed revenue and to provide visitors with a memorable experience, Discovery Wildlife Park offers a number of attractions in addition to general admission, which includes daily animal demonstrations.
For an additional fee, guests can have photos taken with one of the resident bears or beavers, reserve a behind-the-scenes big cat tour or book a wolf encounter.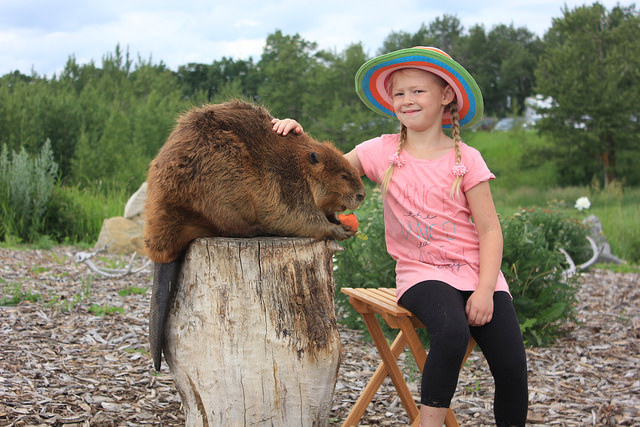 New this year is a 30-space RV campsite. Keeping to the nature theme, there's no power or water hook-ups (RVs must be self-contained), but odds are good you'll receive a supervised campsite visit from one of the park animals.
During this year's annual Night at the Zoo Campout and Fundraiser on July 25th and 26th, pre-registered campers will be treated to behind-the-scenes evening tours, campfire tales and a free pancake breakfast. Guests can also bid on great silent auction items to support the Orphaned Wildlife Program, which provides housing, medical care and food for the park's orphans.
For more information about Discovery Wildlife Park, its programs and its animals or to provide a donation or to book a campsite, visit www.discoverywildlifepark.com.