Medical insurance for snowbirds
Tips on medical insurance, both for those travelling south for the winter, and those travelling within Canada.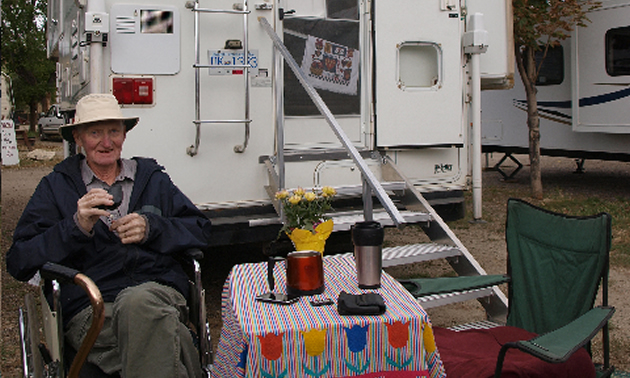 Travelling south next winter? Don't forget to have adequate medical insurance in case of an accident or illness.Travelling within Canada? Many B.C. residents don't believe they need any extra coverage if travelling in Canada.
Six months in B.C. and six months travelling
As long as you are physically present in B.C. for six months in a calendar year (January 1 – December 31) and you make your home here, you are eligible for MSP. Just to clarify it a bit, your home is the place where you receive your mail and where you driver's licence is registered to—and you must be able to prove you live there (with receipts, etc.) Legally you have to have a physical address for your driver's licence and not a mail box. Keep your receipts for any expenses you made when leaving or returning to the province, to prove you have been here if asked.
B.C. residency
It can seem a bit daunting to someone who wishes to sell their house and go RVing full-time. Depending on your budget you may be able to either purchase a smaller home or condo, or rent an apartment to return to each year. I have heard of some RVers who really downsize by renting a room in their children's home, giving them a place to store some of their important items and keep their expenses down. There are also full-time RV resorts that you can either purchase a strata lot or rent a spot to park your RV for the time you are in B.C., giving you a permanent address and satisfying the compliance issues for MSP and your B.C. driver's licence.
Travelling in Canada—are you covered?
There sometimes is a misconception amongst people that if you are travelling elsewhere in Canada your medical coverage is adequate. This is not necessarily true, and if you have medical services in another province MSP will not reimburse you for more than the amount that would be payable had the same services been performed in B.C. They will help pay for unexpected insured services that are medically required and performed by a qualified medical doctor, whether you are in Canada or another country, but you are responsible for any excess costs. If visiting Quebec be prepared for the possibility of having to pay medical costs upfront and then being reimbursed by MSP when you return home.
When submitting receipts for medical care expenses make sure you do it within 90 days of the date of service and within six months of the date you were discharged from the hospital. Remember that the six month rule applies even if you are still in Canada and not out of the country.
Travelling outside of Canada
Be prepared for higher health costs in other countries, and you may have to pay for it upfront. Some services or items that are covered when you are in B.C. may not be covered when you are out of the province. For example, the Ministry of Health will not subsidize fees charged for ambulance service when out of B.C.
The Ministry of Health recommends buying additional health insurance to supplement your basic MSP coverage before you leave B.C., even if it's only for a day. This added health insurance can be purchased through a private insurance company or a travel agency. Let them know if you have a pre-existing medical condition, ask questions and read the fine print to avoid any surprises.
Temporary absences from B.C.
In some circumstances residents of B.C. may be eligible to receive benefits for up to 24 consecutive months while temporarily outside the province. However, approval is limited to once in five years for absences exceeding six months in a calendar year. Don't assume you will be covered—ask for permission first.
Alberta residents' medical coverage when travelling
Many of the rules and regulations laid out by the BC Ministry of Health are similar in Alberta. Your permanent home must be in Alberta and you must be physically present in Alberta for at least 183 days in a 12-month period. You won't be penalized for temporary absences—that still counts as being physically present in the province. However if you are away longer and still have a permanent residence in Alberta you can apply for continued coverage. It's possible to be absent for 24 months for travel, personal visits or educational leave but you must apply for the coverage.
Purchasing travel/health insurance
There are many people who do not buy added travel/health insurance and are really taking a risk because medical expenses can be extremely expensive, often thousands of dollars a day. Even if you are only crossing the border for a day it's smart to have travel insurance. Multi-trip emergency medical travel insurance is available if you take more than one trip a year and depending upon your provider can be basic to fairly comprehensive coverage.
Whether you decide to add to your regular medical coverage or not, it's up to you, but don't jeopardize your basic provincial coverage—it's not worth it. There are numerous private insurance providers so shop around, ask lots of questions, be honest and protect yourself as much as possible.
Resources
www.health.gov.bc.ca/exforms/msp