Is your RV insured properly?
Take the right steps to protect yourself
by Carol Ann Quibbel —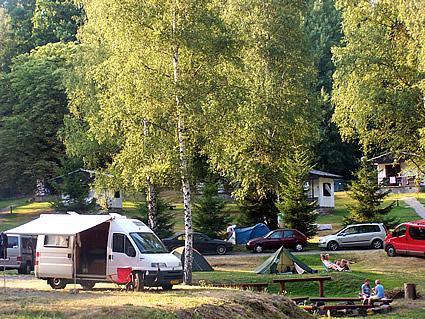 Many people find their RV is not adequately insured or they don't have the right coverage, causing a difficult situation in the event of an emergency. Shop around and make sure you deal with an insurance agent who is familiar with RV insurance—because not every policy is the same nor does every RVer have the same needs. If your RV is parked permanently on a lot, if you only travel within your own area, if you travel out of the country, or live full time in your RV, your insurance needs are all different and your policy should be personalized correctly. The age of your unit will also be taken under consideration and depreciation will probably come into effect.
Contents
Inventory
Make a list of everything in your RV because you will be asked for a content list in the event of a fire or if your RV is stolen. Take photos of your items and each room and attach it to your list. It may also be a good idea to attach copies of your purchase receipts to the list and put everything in a safe place (not in your RV). A safety deposit box at your bank is probably one of the safest places for it.
Valuables

Make sure you have your jewelry or other valuable items appraised and keep that record with your inventory list in a safe place also. You should also add your will, stocks and bonds or even coin collections in a safety deposit box. Have you notified your insurance agent of the valuable items, and are they covered? This is important.
New purchases

If you have recently bought an expensive item such as a computer or camera equipment, contact your insurance agent and add it to your insurance coverage.
Motorhome/towable insurance

There are different types of coverage and of course everyone's needs are different but some things that must be considered are:
All Risk coverage: collision, roll-over, fire, theft, vandalism, wind, hail, lightning, tornado, water damage or spillage. Are you covered if rodents get into your RV and do damage?
Equipment
Glass
Awning
Loss of use
Emergency expenses
Personal property
Liability
Replacement
Emergency road service
Full-time RVers: if you are living in your RV your contents are probably different than if you are only using your RV as a vacation home. There will probably be more content coverage for that reason. Make sure your insurance agent is aware that you are using your RV as your home even though the cost will definitely be higher. In order for you to be properly covered your agent must know what you are doing.
Park models: the age of your park model will decide whether you can be covered for guaranteed replacement and your content insurance will depend upon use of the unit and whether it is your primary residence or a vacation home. The coverage on park models may be similar to a regular home or cottage and may include: outbuildings, decks, fire department charges, additional living expenses, lock replacement if stolen, trees, plans and shrubs
Personal liability
Storage insurance
If you are not going to be using your RV for an extended period of time and are storing it on your own property or at a licensed storage facility you still need to be insured and protected against fire, burglary and theft or water damage.
Your RV is important to you and therefore should be protected the same as your home or your car, so take the time to shop around and discuss your needs with insurance agents who specialize in RV insurance. You don't want any ugly surprises if an accident should happen and everything is either damaged or destroyed. Protect yourself.