Departure checklist for RVers
Having a checklist helps you avoid unpleasant surprises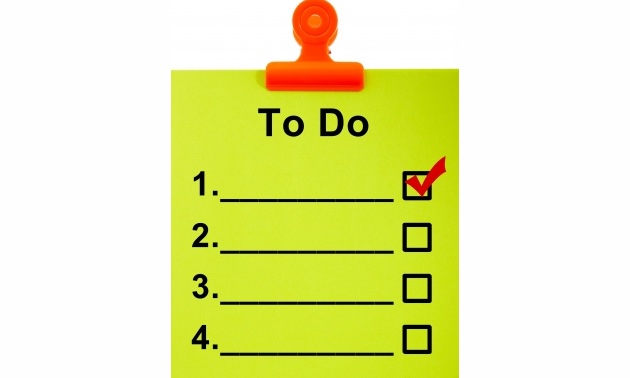 We all have a system for setting up our RVs or dismantling everything when getting ready for departure. Sometimes our systems work and then sometimes they don't because we've gotten distracted and neglect one crucial item that usually never gets forgotten. It happens to everyone.
It's so easy to go through the motions of unhooking your RV from the services and making adjustments inside the unit before you leave your campsite. We all create a pattern we follow and don't usually think about it – we just do it.
Unfortunately, it's also really easy to forget a few things and open the door of your trailer at the next stop only to find that a jar of instant coffee fell out of the cupboard. If you're anything like me—who doesn't always completely close the lids—there'll be dried coffee grounds in every corner of your RV forever.
Everyone develops their own systems for checking that every task gets done when setting up or leaving the campsite. I've found that if you create a list to follow and then actually follow it (that's the tricky part) nothing gets forgotten and you won't drive away leaving a water hose still connected.
Checklists can be used for all kinds of things that apply to your RV whether it's what needs to be done for winterizing the unit or opening it up in the spring. A list for kitchen essentials, setting up your campsite and departure tasks is helpful. To break it down even further, those lists can be done for both the interior and the exterior. If there are two of you, each takes a list to follow, checks off each task and all the essentials get taken care of. Pulling away from the campsite knowing everything has been done should prevent any catastrophes you could have avoided.
Here are a couple of basic lists to get you started. They can be adjusted or added to as you develop your own systems.
Interior checklist
Close windows
Close cupboard/closet doors
Close vents (not needed if covered)
Store loose items
Remove items from kitchen/bathroom counters
Lower and secure satellite/TV antennas
Secure refrigerator contents
Either switch the refrigerator from propane to electric or turn it off
Lock refrigerator door
Turn off water pump
Turn off water heater
Bring in slides
Exterior checklist
Bring in awning and secure
Pack away chairs/barbecues/mats
Fill water tank if needed
Drain black-water and grey-water tanks
Disconnect water, sewer, electrical, TV
Store all hoses and connection devices
Turn off propane
Lower satellite dish
Raise rear jacks
Hook up the fifth wheel or trailer
Raise front jacks
Remove wheel blocks
Secure all storage compartments
Check slides are in completely
Do a walk around the truck and RV checking for lights, brakes and signal lights
Secure RV steps and lock the door
These are the basics that everyone needs to do and it's important to know in which order they should be done. If one person is outside undoing the electrical and the slides haven't been brought in, or if the person inside doesn't get a warning that the fifth wheel is being connected and is not prepared for the unexpected movement, this could definitely lead to a heated discussion.
Every unit has different features. Checklists for motorhomes will be different than for fifth wheels. Having checklists really does make things go more smoothly and prevents a lot of unnecessary surprises and problems.
Create your own checklists and use them – that's the secret.