Camping with canines in Kananaskis Country
Christine Newman loves the combination of her favourite pastimes: photography, her decal business and camping with her dogs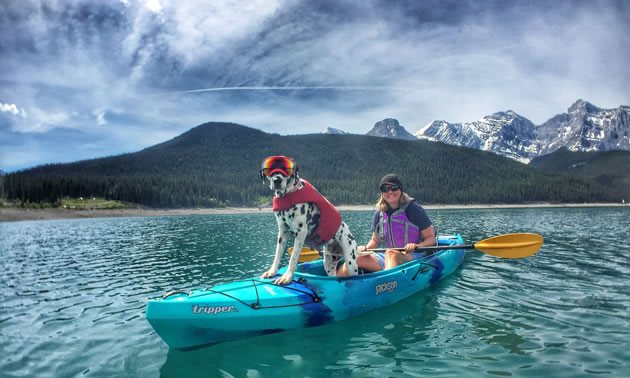 Christine Newman grew up in Indonesia but fell more in love with camping each visit back to Canada. "My grandparents were big campers, and they used to camp in Kananaskis," Newman said. It's only appropriate that as an adult she spends as much time out in Kananaskis country as possible with her friend, Rashelle Elburg.
"In 2013, we camped in tents in Kananaskis two days before the floods," Newman said. "We decided it was time to buy a trailer." They bought a 19-foot Jayco travel trailer for the 2014 season. Come April, they pack up the four dogs and hit the road—at least for a few days out of the week. Between Newman running her own business and Elburg's work as a nurse, they usually head out to the mountains on weekdays, conveniently dodging some of the crowds.
Sticky Pets at Crashelle's Cabin
Newman's hobbies include photography, but her business—Sticky Pets—is primarily in graphic design. She creates sticky pet decals for vehicles and RVs. "I usually use photographs of pets to make stickers and decals," Newman said. The natural addition of RV decals into her offered services came when they bought their first RV. "I've made moose and deer heads," she said. "And now our neighbours all have their names on their doors. Ours is Crashelle's Cabin."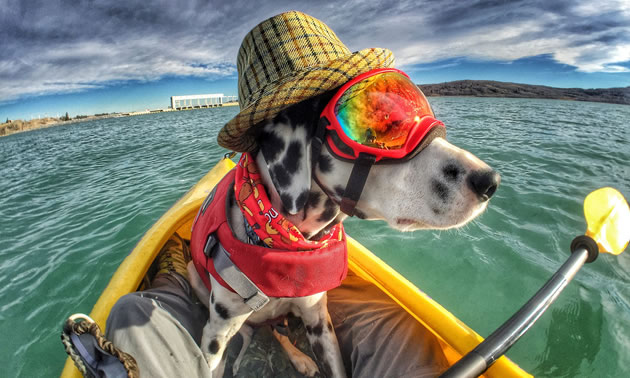 When her decal business took off, photography took a back burner, but camping gives Newman ample photo opportunities. The photos of her dogs are especially popular on Instagram. Her personal account @stickypets attracted a lot of attention—who could not double tap on those Dalmatians exploring Alberta's outdoors? Then Newman noticed that travel companies began using her photos to promote their own profiles and websites.
Instead of letting others benefit from her fantastic photographs, Newman created @paddlingdogs. Since its creation, the account and her pups have become brand ambassadors for a few pet accessory companies. "It's been amazing," she said. "A lot of the companies want to collaborate in the future." For example, Newman hosts contests for Paddling Dogs followers with the help of these exciting companies. Now, other Instagrammers request to have their own photos featured on her profile in exchange for a shout out. "Hopefully in the future we will be able to grow Paddling Dogs into a full-time adventure," she said.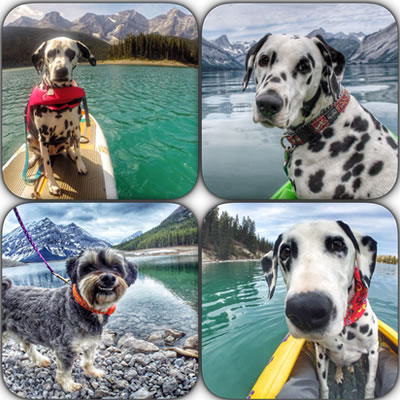 Paddling Dogs and mountain views
Newman loves the combination of her favourite pastimes camping has allowed: photography, her decal business and camping with Elburg and the dogs. The views aren't bad either. They love watching sunrises and sunsets in the mountains. There's no question that Kananaskis sunsets are the perfect backdrop for her photos.
The stars of Instagram and Kananaskis' campgrounds are their pups, which are quite the attraction for neighbouring campers. "In the morning, we take them on a cruiser bike to tire them out," Newman said about her three Dalmatians. "Most people think I'm taking the same dog three times!" Plus, there is little Oscar, the Bichon-Shih Tzu mix. "However, our most epic memories are made out on the water with our puppies while kayaking, paddleboarding and fishing," she said.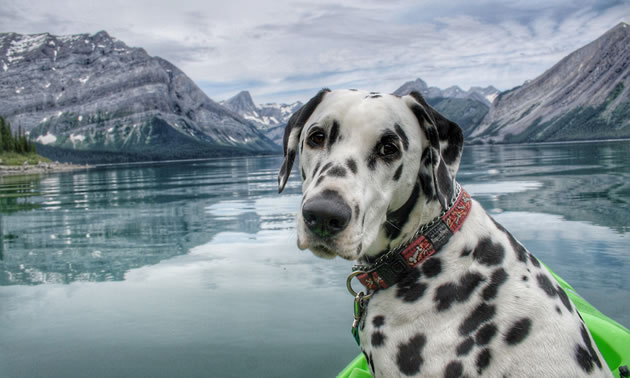 The evenings bring wildlife and mountain views for the adventurous pack. "When we drive around in the evenings, we call the dogs our wildlife safari crew because that's when the animals come out," Newman said. They often see moose, deer and bears. "They'll let out the odd bark," Newman said, but oddly enough, "every time we spot a bear, they never bark."
Newman and Elburg like to start their camping season in Kananaskis in early April. "When the lakes are thawing, they have about three feet of ice crystals," Newman said. "When you kick the ice, it's like glass flying in the air." Follow Paddling Dogs on Instagram if you like camping, Rocky Mountain views and adventurous pups!