Choosing your type of RV
Think about what you want your RV to do for you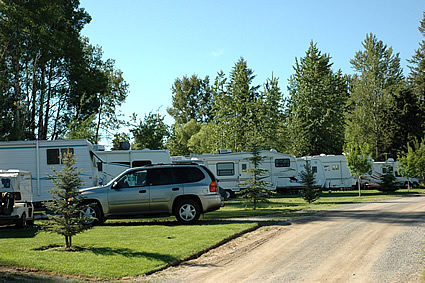 As I look outside my window and see the beautiful blue sky, I think of my many friends who are travelling down south in their RVs throughout Arizona and California. Some are travelling in motorhomes, travel trailers and fifth wheels. One couple I know are exploring with a truck and camper quite comfortably. People can be found using tent trailers, vans and of course the old-fashioned tent that I remember so well from years gone by.
Each RVer, I am sure, researched their RV prior to purchasing and must have given serious thought as to how they would be using it. How you will use your RV will affect the size, style and type you will buy.
For those who enjoy getting away for weekends during the fair weather months, any type of RV is possible but in all probability a tent trailer, small travel trailer or fifth wheel would work very well. Even tenting is entirely possible and enjoyed by hundreds of people each year.
If you plan on travelling for an extensive amount of time or will be living in it full-time, a motorhome or fifth wheel seems to be the most popular choice because of the size, comfort and many amenities they carry.
Weighing the options
It's really nice to pull your motorhome into a campground or parking spot in a torrential rain storm and know you don't have to go outside to set up. It's definitely an added benefit. However, with a motorhome most pull a "toad" or car behind to use for sightseeing and errands. This can be a benefit or a hindrance depending upon your travel style. Having a truck and fifth wheel or trailer also gives you a vehicle to use after your RV is set up. The fifth wheel or trailer can be parked and hooked up for you to return to at the end of a busy day of exploring.
There are so many things to consider prior to purchasing, and what type of RV is not the only question that must be answered. Will you be parking in campgrounds or resorts? Do you prefer to be in the bush and roughing it? What size should it be? What company has the best warranty? What type of layout do you require or want? Where was it built? What features do you need or want in the unit? What floor plan do you like? RVs come with every feature imaginable but realistically we don't need them all. It's nice to have four slides and a washer and dryer but at what cost?
Because there are so many choices it is probably a very good idea to rent an RV a few times or borrow one from a family member so you can test them out and see what works best for you and your family. While thinking of my friends down south I also think of the large diversity of RVs each of them are using and how each family or couple has chosen an RV that suits their needs. Whether it is a luxury motorhome or camper van they are all taking advantage of the warmer climate where they are visiting. Isn't that what it's all about?