Why you need to take the Recreational Trailer Safety Course
Most recreational trailer operators are self-taught - but they can increase confidence with professional training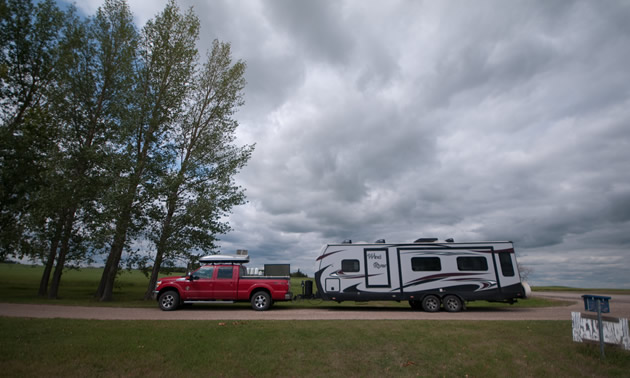 If you count the cart I pulled behind my two-wheeler as a kid, I've been hauling trailers for 50 years. You can imagine my shock and disappointment when I failed the Online Recreational Trailer Safety Training Course with a score of 68 per cent on my first try. I scored 98 per cent the second time though, after a thorough and humbling review of the half-hour online course.
The National Trailer Safety Institute offers commercial and recreational safety training online through interactive web-based courses. Course material is delivered via text, diagrams, photos and videos to help educate participants about recreational trailer safety. As one example, a key segment of the course speaks to effective communication between the driver and the spotter while backing up. Commercial drivers use standard hand signals so the spotter and driver are "speaking the same language." Read tips on hand signals in the RV West article here.
Each segment of the course ends with a quiz to test knowledge, and the course concludes with a comprehensive test. Once you achieve a passing score, you get a digital badge signifying successful completion of the course.
Yardstick Training is a Canadian company with offices across Canada (Calgary, Edmonton, Toronto and Ottawa) that delivers industry safety training. The recreational trailer course is one of the courses delivered online. Greg Britton is the general manager in the safety sector with Yardstick Training, the company responsible for the National Trailer Safety Institute. He said, "Our trailer safety courses bring together the best in online training development and are informed by trusted subject matter experts from ArrKann Trailer & RV. Whether you've been RVing or transporting your recreational boats, quads and dirtbikes for years or are just getting ready for your first summer camping season, this is a fantastic resource to help you do so safely."
RV specifications must be checked
My current rig is a pull-behind trailer and a one-ton pickup with a G.V.W.R. (Gross Vehicle Weight Rating) of 5,217 kilograms (11,500 pounds) and a towing capacity of 7,954 kilograms (17,500 pounds). My trailer is rated for 4,443 kilograms (9,975 pounds), leaving me plenty of room to travel with loaded freshwater tanks and cast-iron Dutch ovens. Since my vehicle capacity is much more than the weight of my trailer, I have adopted a "set-it-and-forget-it" kind of mentality, and I haven't paid much attention to the critical issue of G.V.W.R.
This mindset was the source of my poor initial score on the test, thinking I had these towing skills locked down. I was reminded about G.V.W.R. and checked my truck and trailer statistics. I was unable to find the information about maximum pull weights for my vehicle in the owner's manual and was directed to the manufacturer's trailer towing website. From there, I downloaded a comprehensive document that described in detail trailer towing options based on vehicle standard and optional equipment. My rig was well within the recommended limits, but it was good to be reminded that these limits exist and that operators must remain within them for safety sake.
Even though I have significant trailering experience, I learned a few new points:
How to test the trailer hitch lock to make sure the hitch is positively connected to the tow vehicle (I am sad to say I have never done this and always assumed it was locked when closed);
To haul water tanks either full or empty to help reduce trailer sway;
To use the five-second rule when following the vehicle in front of you. This means you count the seconds between when the vehicle in front of you passes an easily identifiable landmark and when your vehicle passes the same landmark. That should be five seconds in duration. In the current world of tailgaters, this seems an incredibly long distance. (I thought it was three seconds.)
Whether you have decades of recreation trailer hauling behind you or are brand new to this responsibility, this course is well worth the $25 cost and the half hour it takes to complete. The course is full of critical information for recreational trailers haulers to be safe, and the material is presented in a clear fashion. I am pleased to report that I have added the digital badge of successful course completion to my collection of industry training certificates.