Top 5 products for 2017
RV tech expert, Reg DeYoung, gave us these top suggestions for RV products.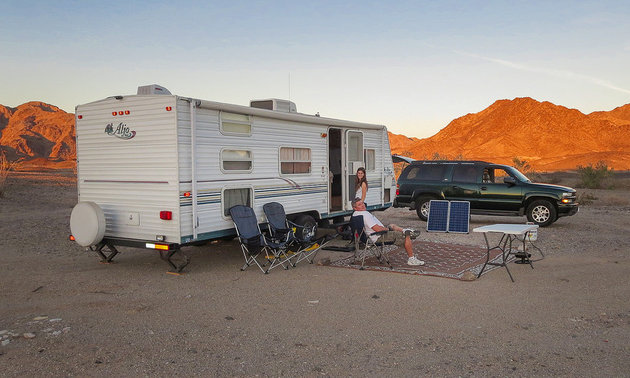 Our favourite RV technical expert, Reg DeYoung, offered us more valuable insights recently. He outlined five of the best new products you will want to have for the 2017 RV camping season - and listed some of their best features.
Can run cooler and last longer than incandescent bulbs.
Will only draw about 1/10th of the power from the 12-volt system.
Have a greater resistance to vibration while travelling.
Three main colors available - namely cool white, warm white (which matches the incandescent shade) and natural, which is between the other two.
Great for boondocking or dry camping to extend battery use.
Park in the shade while the kit sits in the sun to charge your batteries.
Lightweight to carry and easy to store away.
Tilted toward the sun to increase charging rates.
Adjustable legs for uneven ground.
Built-in charge controller to manage output and prevent overcharging.
High-quality wire connectors with accessories available like extensions or OEM pre-wire solar plugs.
Easily replaces existing porch light (two-wire connection).
Bluetooth A2DP music streaming
Premium sound with 100 watts
Hardwired to your RV , no batteries to replace.
Weatherproof design.
Available in standard or premium with APP control for smartphone or tablet.
Require little maintenance and use rugged weatherproof 12VDC electric gear motor.
Many choices available for lift capacities (1500 to 4000 lb. offered)
Most have a LED courtesy light for night time use.
Have emergency manual override capability for dead battery or motor failure.
Built-in levels on some models.
Saves time hitching and unhitching.
Lightweight and safe during fire restrictions.
Adjustable flame control available
Great for camping, tailgating or on the patio
Some models allow for a cooking platform for pots and pans.
Can be supplied with a RV or natural gas quick disconnects.
Easy to store