Sportz Dome-To-Go Tent
The Sportz Dome-To-Go Tent is new and easy to use for simple camping
by Lisa Crane —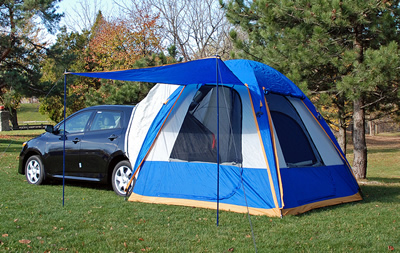 The Sportz Dome-To-Go Tent is an innovative new product from Napier Enterprises. It is the only custom designed tent on the market that fits onto station wagons and hatchbacks.
It makes camping super easy because of the flexibility and versatility it allows. Ever want to slip out for a quick trip without having to do lots of preparation? This could be the answer. The tent is essentially a sleeve that wraps around the cargo portion of a vehicle. So access to the car is easy, access to the outdoors is simple and you can sleep in the tent or in your vehicle.
Details: 8.5 x 8.5 feet, sleeps four, adjustable custom sleeve, full-length rain fly, bathtub-style floor and 6 x 6 foot awning.
The best thing about this tent is that you simply detach from it by unzipping the sleeve and you are free to drive away, leaving it standing alone. It is waterproof, has shade for those hot, sunny days and it sets up quickly—and oh, so simply. If you don't have a compact vehicle, no problem. Tents are available in other custom designs for trucks, minivans and SUVs.
Contact Allie or check out Napier Enterprises on the web.