Handheld tool leaves RV windows spotless
SHUR-Dry Flexible Water Blade
by Kimberly Shellborn —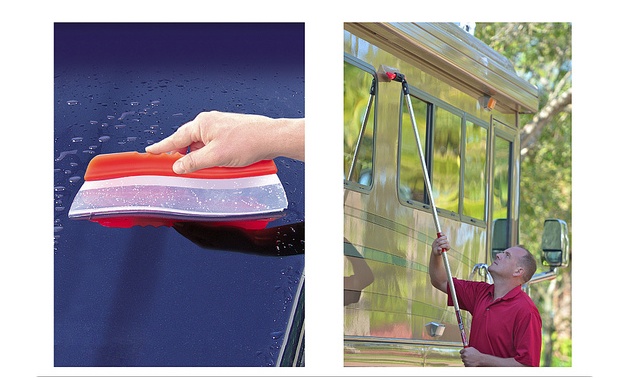 Do you dread cleaning your RV's windows? Especially when they are high up and hard to reach? Spot-free windshields and windows don't have to come with aching arms and back pain. RV owners can rely on Shurhold Industries' 12-inch SHUR-Dry Flexible Water Blade to easily and efficiently complete the task.
The SHUR-Dry Flexible Water Blade molds to curved surfaces and eliminates water spotting without chamois or towels. The Water Blade is has an easy-to-grip handle and is comfortable to hold. Constructed of rubber, it's safe to use on a variety of surfaces.
The SHUR-Dry Water Blade can be used by hand or with the optional adapter, which enables users to adjust the blade 180 degrees and extends their reach by attaching it to longer Shurhold handles. The adapter is sold separately.
Shurhold's SHUR-Dry Flexible Water Blade retails for $26.98, while the adapter is $14.98.