New ID bracelet uses a QR code
A complete solution to life's unthinkable moments
by Kimberly Shellborn —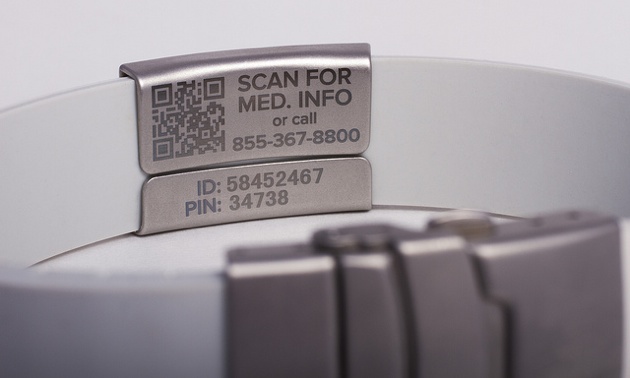 ENDEVR, creators of innovative health wellness and safety products, recently debuted MYID, a medical identification wristband that stores life's essential information for those unthinkable moments. The MYID wristband contain all the vital information necessary for emergency personnel to provide the immediate assistance needed to save lives.
The ENDEVR MYID wristbands are a complete solution to life's scary moments. Naturally, people do not plan for the unthinkable to happen, but when wearing a MYID bracelet, it increases the chances of a life being saved. The medical ID wristband stores vital information to quickly assist first responders and medical professionals when they need to act fast. The medical ID profile stores important information such as full name, birth date, weight and height, as well as blood type and organ donor information, emergency contacts, medications, the wearer's doctor's information, any allergies, along with any medical equipment the wearer may require like an oxygen tank. The ENDEVR MYID makes it easy to save a life: simply spot MYID on the injured person, scan the QR code with a smartphone or call the telephone number to access medical and personal information that can save a life.
The MYID band is easy to set up and can be customized via computer or smartphone. The MYID app also embeds your emergency information into a custom QR code image for your phone's lock screen wallpaper, making it easy for first responders to access critical medical information.
"Every year, half a million people are admitted into hospitals unconscious and unidentified, opening the door for a lot of guesswork. MYID identification wristbands eliminates the guesswork for medical professionals by providing critical information they need to act fast and save lives," said Josh Taylor of ENDEVR.
MYID medical wristbands are perfect for the sports enthusiast, the senior citizen who cares for him or herself, anyone on the road, people travelling or the mother who wants to be everywhere her child is but can't.
MYID bracelets are available at Endevr.com and at retail stores. To learn more about ENDEVR, visit www.lifestrength.com