Make your RV last longer with VersaTube Building Systems
Easy Build Systems protects your RV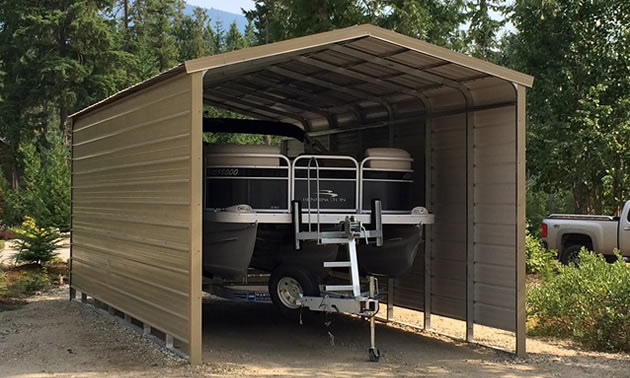 If you're looking for a durable solution to keep your RV safe from the elements, you're going to want to learn more about VersaTube Building Systems. The pre-engineered steel building kits transform into storage structures, entirely customizable to suit your needs. For RV storage, these could be large enclosed garages or just simple roof structures to park your rig under.
Easy Build Structures
Easy Build Structures is the exclusive distributor of VersaTube Building Systems for British Columbia, Alberta, Northwest Territories, Yukon and Alaska. Based in Surrey, British Columbia, the company understands the need for extra protection for your RV between exploring Canada's harsh climates.
What makes VersaTube unique? "When we came across the product, we liked that it was unique and all slip-fit," said Clayton Mickey, the owner of Easy Build Structures. He was referring to the patented slip-fit system of VersaTube's frames—a feature that makes installation simple and quick without sacrificing strength.
Other features of the VersaTube Building System include the galvanized steel frame which withstands harsh climates, fire, insect damage and rot. Easy Build Systems' clients appreciate the combination of strength and simplicity, and Mickey values the quality he can provide. "It was something we knew would be on the higher end, top quality for a pre-engineered solution," said Mickey.
How it works
Easy Build Structures offers complimentary site visits to begin your quote. "All of our packages are customizable, ranging from the roof coverage to partially enclosed or fully enclosed. Once we have settled on a design, from there we put the package together and ship it to site for the customer to put it together themselves," Mickey said. "It was originally designed as a do-it-yourself project, but we do offer full installation services."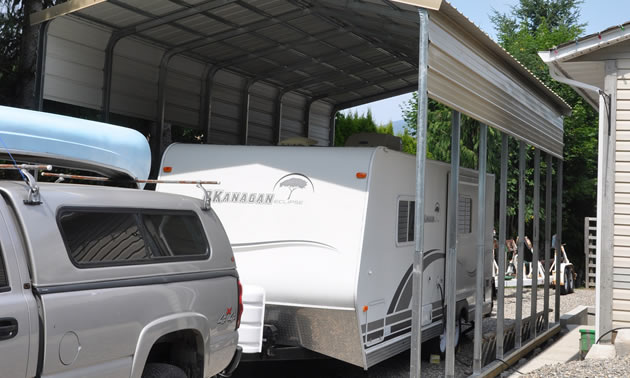 Why you want a VersaTube
Why build a VersaTube to protect your RV? "Most of our RV customers are just looking to get it out of the weather," said Mickey. "Whether that be our harsh winter climates or during the summertime as well." Canada's summers with hot sun and 25 to 30 C (77 to 86 F) literally bakes the unit, drying the sealant and shortening the lifespan of your rig. "We find that most of our customers are looking for a year-round solution to get some longevity out of their unit and maintain the value," he said.
VersaTube structures are an easy access storage option better than time-consuming alternatives like wrapping tarps and vinyl. "Most of our customers didn't use their RVs as much because of the process to take that wrap on and off the unit," Mickey said. A VersaTube roof makes the process much easier.
Easy Build Structures also works with larger customers like dealers, distributors and rental companies that want to keep their RVs out of the weather.
Happy campers
As much as customers are pleased with their new VersaTube buildings, they also appreciate the personalized experience. "Customer service is high for us," Mickey said. He personally deals with each of his clients for quoting, packaging and shipping. His team offers installation and engineering services as well, but the VersaTube System was designed to be a build-it-yourself project.
Could a VersaTube structure work for you? The process is simple and stress-free, and your RV will last a little longer because of it! Learn more about Easy Build Structures online.