Mixed Berry Skillet Muffin for Brunch
Make brunch easy and delicious with a skillet muffin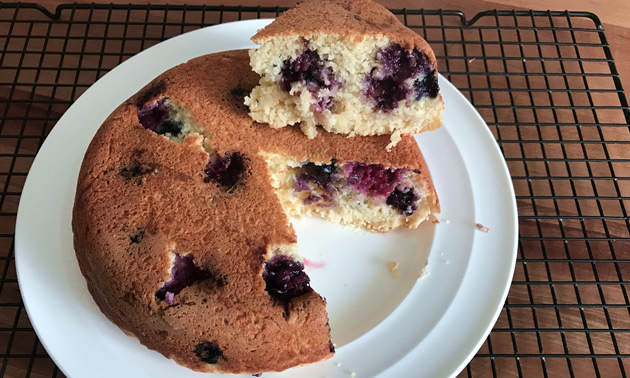 Ever notice no one has brunch at seven o'clock in the morning? There are two reasons for this: it is the weekend and everyone should be sleeping in. As we march our calendar towards the shortest days of winter, sleeping in is more appealing than ever. If you crave quiet days with gentle morning starts on weekends, this Mixed Berry Skillet Muffin is a gentle and luxurious launch to the day as you can get.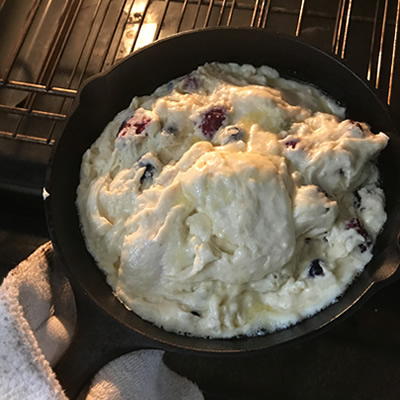 The point here is simplicity and something special. A sizzling skillet of freshly mixed berry muffin from the oven as your crew emerges from winter sleep is easy on the baker and a welcome brunch for late sleepers.
This muffin recipe has corn flour—not cornmeal. Corn flour is the colour of cornmeal and has the texture of all-purpose flour. Corn flour gives this muffin a fine crumb, but if you cannot find yellow corn flour, substitute corn meal.
I make this muffin the same way I make backyard barbecue cornbread—in a 20-centimetre (eight-inch) Lodge cast-iron skillet. The amounts in this recipe fill this size skillet perfectly.
The skillet is preheated in a 375 F oven. Remove the preheated skillet from the oven, let the butter sizzle in the pan a minute before adding the batter and return the batter-filled cast-iron skillet to the oven.
After the muffin is out of the oven, let it cool a couple of minutes. Then knock the muffin out on a dinner plate, cut in triangular slices and let your crew dig in. Serve slices of muffin with cold butter, hot coffee, fresh orange juice and slices of smoked Gouda and old cheddar cheese. The dish serves four to six late sleepers.
Tools and equipment
Mixing bowl
Dinner fork
Gram scale or cup and teaspoon measures
Wooden spoon
20-centimetre (8-inch) Lodge cast-iron skillet (well-seasoned)
Oven
Ingredients
138 grams (1 ¼ cups) all-purpose flour
75 grams (½ cup) fine corn flour (not cornmeal)
50 grams (¼ cup) white granulated sugar
10 ml (2 teaspoons) baking powder
5 grams (¾ teaspoon) salt
2 eggs
60 grams plus 15 grams (4 tablespoons plus 1 tablespoon) butter
190 ml (¾ cup) milk
250 ml (1 cup) frozen mixed berries
Method
1. Preheat oven to 375 F.
2. Lightly oil the skillet and place in the oven to preheat.
3. Measure and mix dry ingredients.
4. Beat eggs with a fork.
5. Add 60 grams (4 tablespoons) melted butter and milk to eggs.
6. Combine with dry ingredients with a few quick strokes of a wooden spoon. This will be lumpy, and it is fine.
7. Add mixed frozen berries and combine.
8. Remove the skillet from the oven, add 15 grams (1 tablespoon) of butter and let it sizzle.
9. As soon as the butter has melted, tilt the pan to coat the bottom of the pan and scrape the batter into the skillet.
10. Return to the oven and bake 25 minutes or until a toothpick poked into the centre comes out clean. (Solidly frozen berries will extend the baking time five minutes or so.)