Voyager RV celebrates
The 35-year success of Voyager RV is based on three elements: good people, good products and good practices.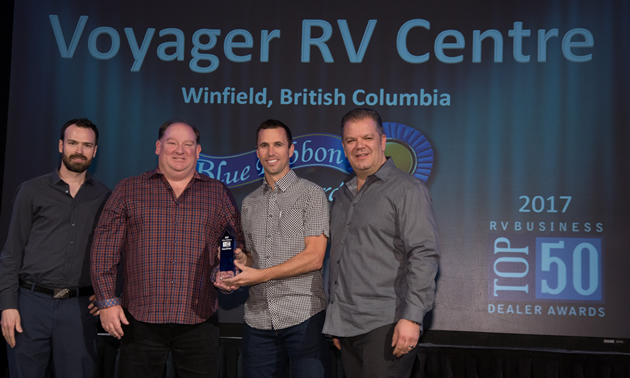 Jason Friesen has a degree in education, and he never expected to fall in love with his dad's business, much less make a career there. "I was never groomed for the business," he said. "It's just the way it worked out."
"The business" is Voyager RV Centre in Winfield, B.C., on the northern edge of Kelowna. Founded by Rodney Friesen with eight consignment motorhomes on the same location it occupies today, Voyager RV celebrated its 35th anniversary on April 24, 2019.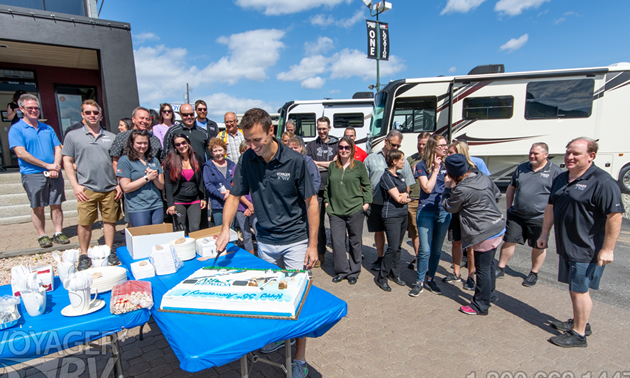 It turns out that the younger Friesen inherited his dad's entrepreneurial spirit. He found himself loving the world of business, and the RV business in particular. He joined Voyager as its sales manager in 2003 and is now the vice-president.
The people, the products, the practices
"I love our staff for the type of people they are," Friesen said. "They are people you'd want to talk with and spend time with."
The staff at Voyager RV share core values of integrity and transparency, and the goal of creating a good experience for their customers.
In terms of products, Voyager RV has something for everyone: tent trailers, motorhomes, travel trailers and fifth wheels. The majority of Voyager's inventory is towable RVs.
"We move with the trends," Friesen said, "and over the last five to seven years, people have been looking for units that are smaller and more maneuverable, though with all the amenities."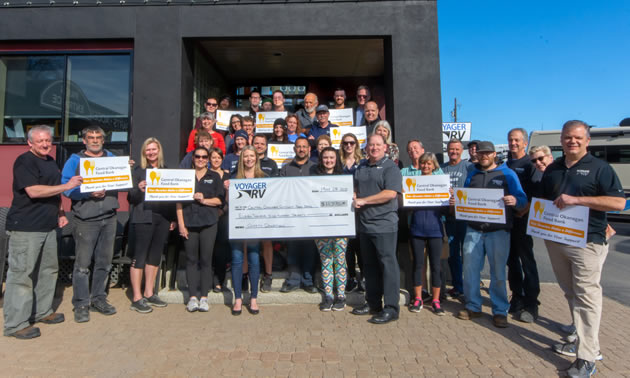 "We want to be proud of our products and confident in how they'll perform for our customers after the sale," he continued. "Grand Design, Winnebago, Jayco, Lance, Keystone and Northern Lite are flagship brands in the industry and we feel lucky to have partnered with them."
The core values of integrity and transparency are more than an idea to Friesen, and he has done away with dealer administration fees and documentation fees. "It always bothered me to charge those fees," he said.
"We also have a 10-day, no-hassle RV exchange policy—the only one that I know of in the RV industry in North America. We want to make sure that if the purchase doesn't feel right when our customer gets it home, they're able to exchange it. We want our customers to be 100 per cent thrilled with their RV and with their experience buying it from us.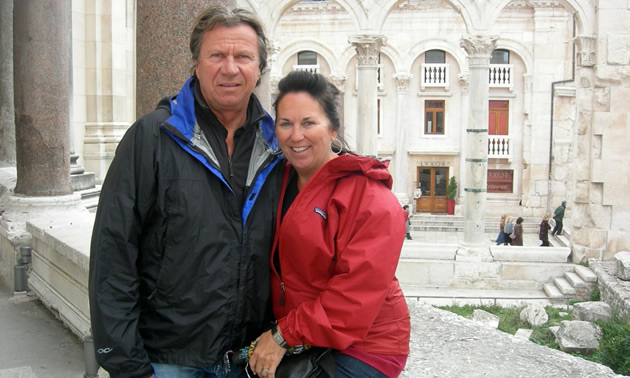 "Doing an exchange costs us some money, but it makes our customers happy—that is what's important."
Gratitude in action
"Near the end of last year, as we approached our 35th anniversary, it hit me how lucky we've been," Friesen said, "and I thought there must be something more we could do as a dealership to support the community that supports us.
"So we came up with the Voyager Cares initiative. For every RV we sell this year, each department will donate money to a charity. Our staff voted on the local charities that they would most like to support and we ended up with a top seven list.
"We've donated almost $12,000 to the Central Okanagan Food Bank, and for March and April, we're donating to the B.C. Heart & Stroke Foundation—our donation will be around $20,000 based on how things have gone. Our goal for the year is to donate $100,000 or more to the seven charities in total.
"When I told him of this idea of giving back, my dad thought it was a no-brainer. This is an extra, and a way that we can thank our community and our customers throughout B.C. for 35 great years of supporting us here."