Nanaimo: a romantic destination
Rich history, a laid-back pace and an abundant natural playground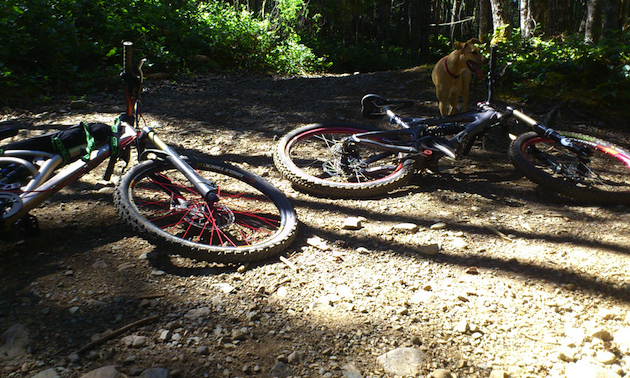 Downtown Nanaimo: the Arts District and Old City Quarter
Nanaimo's arts district is part of the city's historic downtown neighbourhood, where eclectic shops, art galleries, music store and specialty cafes can make the short trip up Commercial Street into an all-day affair. Browse Well Read Books—a two-level used bookstore with floor-to- ceiling stacks of classic and contemporary titles, before stopping in for locally roasted espresso at Serious Coffee across the street.
Tucked around the corner from the coffee shop is the Nanaimo Museum, where visitors can tour a model coal mine, discover First Nations art and Nanaimo's lost Chinatown or marvel at the Sports Hall of Fame. Continue up Commercial Street to shop local artisan stores for clothing, home accessories and music. Find paintings, silk, stone work and other treasures at the Nanaimo Art Gallery.
A short detour from Commercial Street leads up Fitzwilliam to the Old City Quarter. Shop his and hers funky fashions, have a tarot reading at Lobelia's Lair or browse high-end leather and textile souvenirs at Coombaya. Indulge in an enormous scone at Bocca Café or treat yourself to ice cream at Jacob's.
Back down on Commercial Street is Diana Krall Plaza and around the corner the Port Theatre. This is a thriving center for live music and theatre performances that has drawn artists from around the word to its small stage. Check out porttheatre.com for the most recent calendar.
Another theatre company a few blocks away is Western Edge Theatre—a locally run theatre company that has brought Nanaimo some of the funniest, most heartfelt and heartwarming performances it has ever seen. Find events and tickets at www.westernedge.org
Cap off your evening with a romantic dinner at Sukkho Thai, or take in some live music at the Queens. Visit Tourism Nanaimo for more.
Wine tours in the Cowichan Valley
Thirty-five minutes south of Nanaimo lies the Cowichan Valley, which is nothing short of bliss for wine lovers. A day trip to Cherry Point Estate Wines takes visitors through the vineyard where award-winning grapes are grown, including Pinot Noir, Merlot, Agria and Gewurztraminer. Visit the tasting room for a guided selection of reds, whites and dessert wines and suggested pairings that will make your mouth water. Finish off with Blackberry Port on the patio.
Zanatta Winery is another prized destination as one of Vancouver Island's oldest wineries. Enjoy the Italian-influenced 1903 farmhouse converted to a tasting room, wine store and restaurant. Visitors enjoy Ortega, Cayuga, Auxerrois, Pinot Grigio, Pinot Nero and Madeleine X Sylvaner as the winery's main varieties and as many as 30 different experimental or limited specialty wines like Castel, Leon Millot, Cabernet Sauvignon, Merlot or Siegerrebe.
For a complete list of wineries, tours, and wine and culinary events visit Wine Cowichan.
Mountain biking Doumont Road
While not an official park, the mountain bike trails on Doumont Road in Nanaimo are well-known and well-maintained by local riders and clubs. The amazing trails offer something for every ability with easy, wide trails, great flowy single track and lots of climbing (if you want it). For the experienced adventurers there are sections with jumps, log rides and ramps—just explore the trails to find them all.
Turn onto the Jingle Pot exit at Mostar and immediately turn right onto Biggs Road. Follow it to Doumont, pass Doumont and park on the road near the motocross track. If it's downhill and freeride adventure you seek, take the trails on the left side of the road; for gentler cross country trails stay on the right side. The trails are well-marked and mapped extensively and the area is well-used by friendly mountain bikers willing to give a hand with directions and recommendations.
The mountain bike clubs, bike shops and Internet are great places to find advice and maps. Visit Oak Bay Bikes for advice, rentals or repairs; Nanaimo Mountain Bike Club to join a ride or Phil's Maps to find your way.
Horne Lake Caves
Discover the mystery and allure of the underground about 45 minutes north of Nanaimo at Horne Lake Caves Provincial Park. The naturally-occurring wonders feature magical twists and turns among delicate crystal formations that have evolved over thousands of years.
The park offers guided tours for all skill levels, ages and abilities and the website boasts having visitors ages 5 to 90. Good footwear, a warm coat and careful steps are all you need to for a safe and exciting guided experience. Self-guided tours through three specifically-designated caves are rugged and wild, and involve some crawling, moderate climbing and narrow passages.
Winter brings wetness and the caves transform from a serene environment to a high-energy adventure, so be seasonally prepared. If you'd prefer to stay on this side of the soil, visit Horne Lake Caves museum and geological center or the Horne Lake Theatre to gain a greater appreciation for cave conservation.
Gabriola Island
Hop on the ferry by car or by bicycle from downtown Nanaimo to Gabriola Island—a beautiful rural community of 4,000 that offers forested parks, quiet white sand beaches and world famous artisan tours. Explorers can find more than 50 petroglyphs at Jack Point, Lock Bay and Weldwood, or follow a path behind Gabriola United Church on South Road to find several more in the rock face.
The self-guided artisan tours, available year round, are expeditions of woodwork, metal work, painting, sculpture and culinary treasures like garlic- or chili-flavoured gourmet chocolate. If there isn't time for an entire tour, check out the Farmers' Market on Saturdays in the summer.
Explore Gabriola by sea kayak—launch at Silva Bay and travel the calm waters to the southwest. Abundant wildlife call the island and its surrounding waters home, from sea lions and orcas to bald eagles and otters. Gabriola is also one of the few places where visitors can pick and eat fresh oysters, mussels and clams. After a day exploring the ocean and beaches, have a fresh, locally-sourced dinner at Silva Bay Restaurant and Pub, a semi-casual establishment offering appetizers, fresh seafood and flame-grilled entrees.
Whether visiting in the hot breezy summer or wet refreshing winter, a visit to one or more of the island's sandy beaches is in order. Drumbeg and Sandwell Provincial Parks offer sprawling white sand and all the amenities, or choose to explore out of the way coves and bays. Neither is ever crowded. A great way to explore the island is by bike—the island is 20 kilometres nose to tip, one way—or along an unmarked trail on Gabriola's central spine that offers stunning views and serene forests.