A delicious family-friendly destination
Nanaimo is a beautiful waterfront city with lots to do and tasty treats too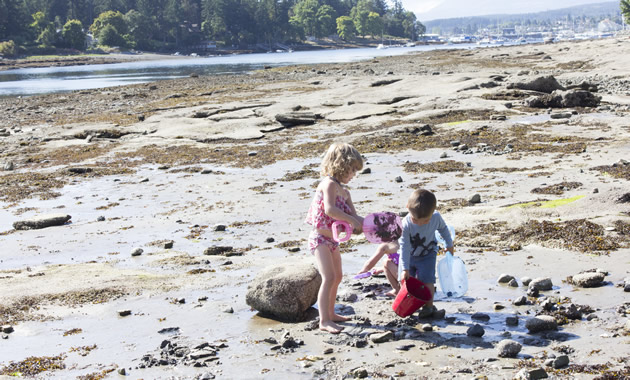 Nanaimo, on Vancouver Island, is known as the Harbour City as well as the source of a deliciously decadent dessert. These two attributes, among others, help make the area a great destination for anyone travelling with children.
There are plenty of campgrounds to choose from, but any stay in Nanaimo should include plenty of time spent in the downtown. A scenic waterfront is an obvious choice during a summer day.
"We have a four-kilometre waterfront walkway lined with ice-cream shops and coffee shops," said Chelsea Barr of Tourism Nanaimo. "It's a beautiful walk down there. It goes around a man-made lagoon, so folks can stop and have an area for swimming and playing on the beach. Right beside that is a big playground, which makes it a great place for younger kids."
Every Friday, throughout the summer, there's a farmers market held at the waterfront plaza from 10 a.m. to 2 p.m. Families can enjoy the live music and atmosphere—there is also a special children's day on August 9, 2013.
It might not be nearly as healthy as an organic apple from the farmers market, but any visitor will be enticed by Nanaimo bars. The traditional version—chocolate crust, creamy centre and chocolate topping—is familiar to most Canadians but Nanaimo takes their dedication to the dessert to a whole new level.
"There's the Nanaimo Bar Trail where people can go around sampling the different Nanaimo bars, and have a bit of a competition with the family to see which one is the favourite," said Barr. "The Nanaimo Bar Trail compiled all the different Nanaimo bar things that folks are selling. You could get a Nanaimo bar and compare it to the Nanaimo bar ice cream. There's a cheesecake and a Nanaimo bar sundae, which is really fun and stacked high with whipped cream on top. There's even a deep-fried Nanaimo bar. There's a whole bunch of different ones on the self-guided brochure. It's kind of fun to just see what you want to try."
Whether you indulge your sweet tooth or not, Nanaimo offers lots to do. Wildplay Element Parks is a fun option for older children and rock climbing at Romper Room is a good option if the weather turns. Scenic ferry rides to side destinations means lots more to watch. All said and done, "I'm bored" is not a phrase that needs to be heard in Nanaimo.