History galore in Nanaimo
Nanaimo has a varied past with great attractions that will appeal to just about anyone visiting the area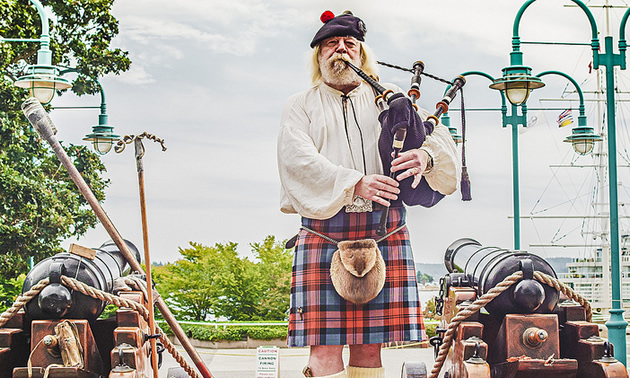 Take your pick—mining heritage, a military past or a unique native culture. Wherever you look, the city of Nanaimo on Vancouver Island, British Columbia, serves up a rich history.
One cultural option that should be considered is Newcastle Island Marine Provincial Park. This area is full of stories and paths to explore.
"It's fun to take the ferry over to Newcastle Island," said Chelsea Barr of Tourism Nanaimo. "It's (an important area) for the First Nations here—they use it for training and learning and passing on stories. There's some other history there as well. The CP railway used to own it and would bring 1,500 passengers over from Vancouver. It was a place to have a picnic. They built the pavilion over there—it's one of the only floating dance floors remaining on Vancouver Island. There's a campsite over there, there's a moorage for boaters, so it's kind of a happening place over the summer. There's lots of walking trails and private beaches. There's also the rare white racoon, which you might see if you're lucky."
If you're spending a day in town, be sure to check out one of Nanaimo's museums. The Vancouver Island Military Museum is an especially interesting themed museum that covers Canada's military history from the War of 1812 through the recent conflict in Afghanistan. The unique octagonal building hosts carefully curated collections that let visitors explore many aspects, from the homefront to our peacekeeping contributions.
Wander outside to discover another site that military buffs won't want to miss.
"Downtown, right on the water, there's a 150-year-old Hudson's Bay bastion—the only one left standing in North America," said Barr. "You can walk through it; it's free to go through. Every day at noon the museum puts on a bit of a show and fires the cannons downtown, right on the waterfront."
The Nanaimo Museum is another great option that just about anyone can enjoy. One popular permanent exhibit tells the story of coal mining in the area. The replica exhibit was built with the help of folks in the movie industry and there are also interactive displays.
Head to the south side of town and you might be able to track down a more genuine mining history experience. Morden Mine is the most complete above-ground historic coal mine shaft on Vancouver Island. The knowledgeable Friends of Morden Mine offer tours of the area, which might include the Morden Colliery Regional Trail, a picturesque 1.2-kilometre walk from the mine to Nanaimo River. Although the mine shaft is fenced off, you can still take a look around and imagine the mining days of yore.
No matter why you visit, there really will be plenty of opportunities to explore the past in Nanaimo. Whether you wander around an island with a rich past or watch ancient cannons fire over the harbour, it's worth taking a break from relaxing on the beach to spend time learning about the rich culture and heritage of the area.