Find your happy place in Saskatchewan
Watrous and Manitou Beach invite you to unwind and escape your worries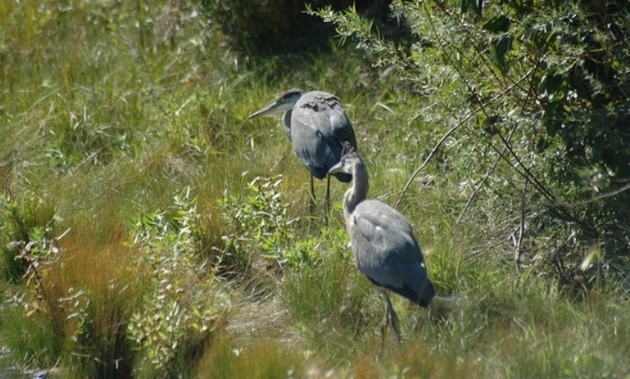 RVing is one of the most relaxing activities you can choose to take part in, especially when you find the right destination. The perfect camping spot strikes a balance between engaging activities and peaceful ambiance, and you can find that in Watrous and Manitou Beach, Saskatchewan.
A soothing stroll
Wellington Park
in Manitou Beach is a beloved green space with picnic areas, firepits, a playground and a stream meandering through it.
Camp at the nearby regional campground, and you can take one of two scenic walking trails (one is 3.5 kilometres [over two miles], the other is five kilometres [3 miles] long), both of which directly access Wellington Park. You'll see an abundance of Saskatoon berries along the route and a diverse array of wildlife, such as mule and white-tailed deer, migratory birds and waterfowl. Birdwatchers will be especially enthused with the local ecosystem; bring your binoculars and your camera.
In addition to the wild wonders, the walking trails also take you past shops and other attractions in the resort village.
More excellent bird-watching opportunities
Another place to check out is
Last Mountain Lake Migratory Bird Sanctuary.
Some opt to take a driving tour, complete with interpretive stops. Others would rather set off on foot along the walking trails, which extend through eye-catching wetland and prairie territory and lead to an observation tower.
There is a self-serve information kiosk, and people come here to fish, canoe, kayak, hike and study nature amidst a flurry of ducks, swans, cranes and other wetland residents.
Geocaching for the win
If you're itching to go on a bit of a hunt, there are more than 200 geocaches within 80 kilometres (50 miles) of Watrous. Take your GPS and follow the co-ordinates to creative locations that include historic sites, attractive viewpoints and one very popular fishing hole. You might also see the artifact in Watrous that was used in the movie Twister.
Geocaching is a fantastic way to get the kids and grandkids excited about your Saskatchewan camping adventure.
Lounging on the beach
It may go without saying, but anyone RVers in the area should pencil in some serious
beach time
. Manitou offers three immaculate sandy beaches, each with its own shower and washroom facilities.
Send the kids to play on the nearby playground and float your cares away in the mineral-rich waters, which have been renowned for their healing properties for centuries.