Welcome to "I Spy'd a Vintage Motorhome" – A GMC motorhome
From 1973 to 1978, over 12,000 GMC motorhomes were produced by the automobile manufacturer.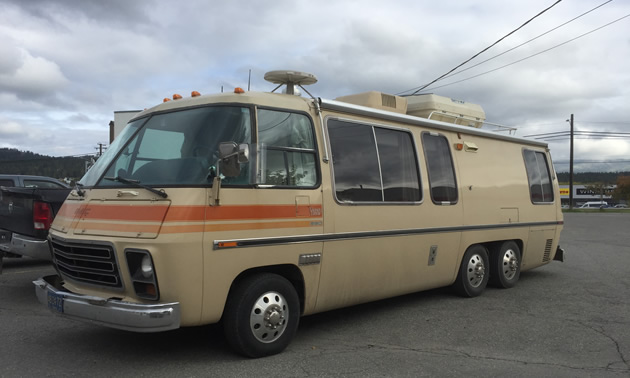 Back in 1973 there was a lot of excitement when the biggest automotive company in the world decided to get into the motorhome business. General Motors had a reputation of never doing anything half-hearted and they dove into the RV market with both feet. The result was the space-age looking GMC Motorhome.
I found this well-kept model sitting gracefully in the autumn sunshine next to a nondescript apartment block in the southeast corner of British Columbia. It looks like its owner are active RVers as the unit is fully licensed and still sports a Family Motor Coach plaque.
According to Wikipedia, "The GMC Motorhome was produced by the GM Truck & Coach Division for the 1973 through 1978 model years in Pontiac, Michigan, USA. It was the only complete motorhome built by a major auto/truck manufacturer, producing what GMC hoped would be their "halo" vehicle. Part of the reason this vehicle is so different from other motor homes of the era is that it was not conceived as just a "camper," but as a vehicle for comfortable travel as well. The design was radical for the day with front-wheel drive and a low profile, fully integrated body. At the time (as now), motorhomes were built by recreational vehicle manufacturers on bare frames and drivetrains supplied by a chassis manufacturer. GMC built the bodies and in most cases the interiors in-house, and designed the chassis and drivetrain to create a motorhome enclosure that could be adapted to a range of purposes. Empty shells were supplied to other RV manufacturers for upfitting the interiors and also to specialty manufacturers for a range of custom purposes ranging from mail delivery and mobile training facilities to people movers and ambulances. It was built in 23 and 26 ft (7.0 and 7.9 m) lengths."
Evidently a total of 12,921 GMC motorhomes were produced from model years 1973 to 1978. Over 7,000 are currently listed in an international registry. Estimates suggest that at least 8,000 to 9,000 of the original production are still in running condition.
Do (did you ever) you own a GMC Motorhome? Tell us your vintage motorhome story.
Have you spy'd a vintage motorhome, trailer or camper? Snap a picture and send some details to us at RV West—we may feature it in our new column, "I Spy'd a Vintage RV."
Share your classic RV restorations, or tell us your favourite story about a cool vintage unit you've encountered by filling out our Classic Vintage RV form.