Vintage RV: There was some gypsy in the Avion trailer heritage
The Avion Travel Trailer was first built in 1956.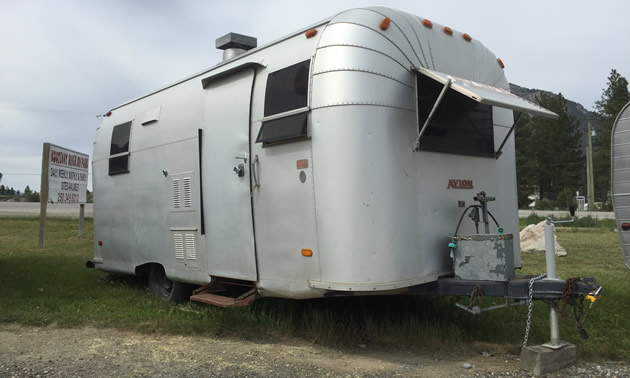 Not long ago, I came across an aging Avion trailer, which had an uncanny resemblance to the older Airstream which sat next to it.
It is hard not to see that the all-aluminum Avion trailers were knock-offs of the famous Airstream trailers but don't tell that to Avion founders Howard, Loren and Robert Cayo.
In fact, Airstream was so convinced that Avion had plagiarized their design that they took the Cayo's to court. Airstream subsequently lost the suit based on the fact that there were a number of trailer companies producing all-aluminum units - many inspired as spin-offs from California's waning aircraft industry in the 1950's. "These lawsuits contended that the Avion design was copied from Airstream, but none were upheld in court. There were significant differences between the two trailers and also, there were a number of travel trailers that utilized riveted aircraft construction, i.e., Spartan, Silver Streak and others," noted one blog post.
Originally called Romney trailers, evidently after the Romney gypsies of Europe, the Avion Coach Corporation was born in the mid-to-late 1950's.
"The first few vehicles were actually built under the Romney Coach badge," Bill Cayo, son of one of the owners noted in an interview, "but apparently there were some problems with the name, so in 1957 the company name was changed to Avion Coach Corporation."
Travel trailers weren't the only vehicles manufactured by Avion. Using the same basic parts that went into the Avion trailer, Bill Cayo cobbled together a pickup camper for his own use and the company liked the result. In 1965, Avion started offering pickup truck campers as well. That division would figure prominently when, several years after Loren's untimely passing in 1967, Avion was sold.
In 1970, controlling interest in the Avion Coach Corporation was sold by the Cayo family to a Detroit family headed by Robert M. Ligon. Ligon Enterprises, who continued to build and market the same high quality product with Robert Ligon as its president. In 1976, Ligon Enterprises sold the company to Fleetwood Enterprises. The Silver Avion was built until the 1990's when Fleetwood decided to build the Avion Product with more traditional RV construction methods. Fleetwood continues to sell 5th Wheel trailers under the Avion name.
The Avion Travel Trailer was first built in 1956. Classic aluminum trailers were built through the 1990 model year. . . and there was always a little bit of 'roaming' gypsy in the Avion trailer heritage.
Source: Tin Can Tourists Wiki page - Avion Travel Trailer
Share your classic RV restorations, or tell us your favourite story about a cool vintage unit you've encountered by filling out our Classic Vintage RV form.