Vintage RV: The "Age of Aquarius"—1970's Haico Aquarius Class A Motorhome
Described as a "very, very rare Canadian built motorhome" by some, the Aquarius was a popular unit back in the day.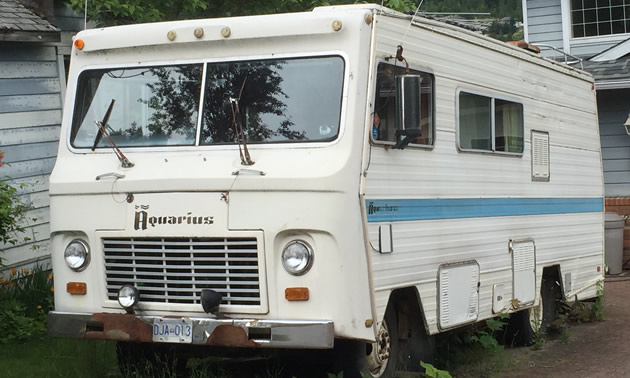 The "Age of Aquarius" pretty much summed up the 1970's and who knows, maybe it was the inspiration of the naming of the Haico Aquarius Class A motorhome of that era.
We found this beauty languishing in someone's driveway in Nelson, B.C., but it looks like it's in pretty decent shape and ready to roll for another camping season.
These old Haico's are popular with vintage RV enthusiasts and it's not that uncommon to find a few of them in campgrounds or sitting in storage across western Canada.
They were primarily built on a Chev Chassis and often sport a big 402 BBC engine—lots of power, not so great on fuel mileage.
Some describe the Aquarius as, "a very, very rare Canadian built motorhome." Haico Industries was purchased by Triple E Motorhomes, of Winkler, Manitoba, in 1987.
Here's what one RVwest reader told us about the Haico Aquarius that he is in process of refurbishing: "Build quality is suspect throughout with little to no quality control. Drivetrain is BB Chev 402 with TH400 transmission, and has been remarkably dependable with very little oil leakage even with 45-year old gaskets."
Another on-line discussion forum sheds more light on the history of Aquarius, "The Empress (Aquarius) was built by HaiCo Manufacturing, a division of Wickes, of Lethbridge Alberta. It looks like this firm started making RVs in the late 1960s and lasted about a dozen years or so – the newest examples we could find were from the early 80s."
Do you have some insight to shed on the history of the Haico Aquarius motorhome? Share your classic RV restorations, or tell us your favourite story about a cool vintage unit you've encountered by filling out our Classic Vintage RV form.