Vintage RV (Roadside Relic): 1973 AMF SunKamper 5th Wheel Trailer
A bit of a roadside relic, but still functional, this 5th wheel trailer was spotted in a storage yard.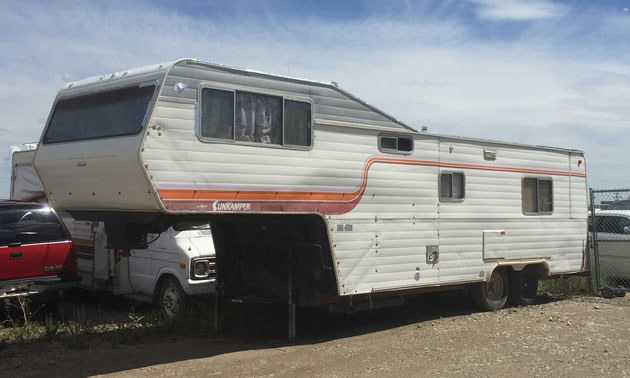 You just don't see many vintage 5th wheel trailers around, but this one parked in a storage yard outside of Calgary recently caught our eye. It looks like a bit of a roadside relic — however it was still in usable condition and lead us on a search for AMF's trailer tie-in.
In the 1970's AMF (American Foundry Corporation) was one of America's leading recreational products manufacturing companies producing everything from bowling balls and basketballs to Harley Davidson motorcycles to Skamper travel trailers. Evidently the Skamper line was known as the SunKamper line in Canada, based out of Paris, Ontario.
According to NADA guides, "Founded as part of the Flota-Aire Marine Corporation in 1959, the Skamper grew as a pop-up camper and truck camper builder when full production was realized after the 1964 model year. Skamper would also produce travel trailers, Class C motorhomes and briefly park model units. At one time owned by AMF (American Foundry Corporation), Skamper Corporation would be acquired by Thor Industries after the 1996 model year."
Here's a more extensive history of the AMF Skamper Corporation, as posted on the website Pop-Up Camper History: "Flota-Aire Marine Corporation, founded in 1959 by Lee E. Markel, started out manufacturing marine recreational vehicles. Research to-date points to early 1962 as the year the hard-top Skamper Trailer was introduced. The Skamper trademark, applied for on July 26, 1962, references March 1, 1962 as first used in commerce. Lee E. Markel, president and founder, designed a hardtop tent trailer and applied for a patent on February 4, 1963. He was granted US Patent 3,161,433 on December 15, 1964 and assigned this patent over to Skamper Corporation. This trailer featured an aluminum hardtop with vinyl-laminated nylon sidewalls. There were no pull-out beds in this first design, although they would be added shortly thereafter. Starting in 1965 all advertising references to Flota-Aire Marine Corporation were dropped and Skamper Corporation was used instead. The Skamper Trailer was among the very first hard-top trailers to be manufactured. The entire industry quickly shifted to hard-top style over the next few years, but Skamper led the way.
By 1965 Skamper's hardtop tent trailer also featured slide-out beds on the front and back. Truck campers were introduced to Skamper's product line in 1966 and by 1967 Travel trailers were added to the mix. On November 21, 1968 Skamper Corp. filed with the SEC seeking registration of 235,000 shares of common stock. The net proceeds from the sale were applied in part to the cost associated with the company's entry into the travel trailer field. At this time Lee E. Markel was still president and Roland F. Wade Jr. was Director. The two together held the majority of the company's stock.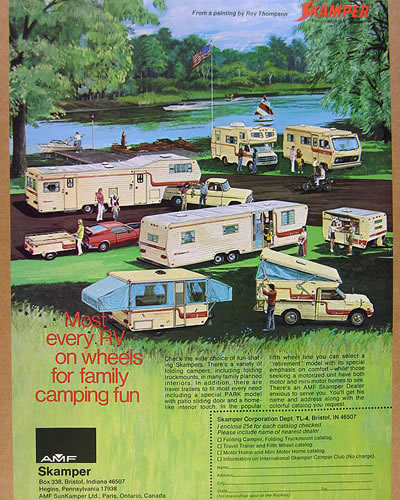 In early 1972 shareholders approved a merger of Skamper into American Machine Foundry Company, known as AMF, Inc. after 1971. Beginning in 1973 you see AMF Skamper Corp. on all advertisements. Lee Markel left the company sometime after the merger/sale. AMF brought in their own management such as Raymond F. Kennedy who served as president sometime between 1973 and 1977. In the late 1970's AMF sold off several companies in efforts to shore up its financial situation. Skamper Recreation Division was sold either in late 1978 or early 1979. One of the new owners, and president of the company, was Stephen T. Decker.
In 1979 the Second Oil Crisis occurred following on the heels of the Iranian hostage crisis and the start of the Iran-Iraq war. Oil production was disrupted in both countries resulting in a supply shortage. Soon thereafter the country entered in a deep recession and experienced high interest rates. The RV Industry was badly effected, many manufacturers simply went out of business. Skamper Corporation survived with the help of friendly local bankers and by 1981-82 was once again taking and filling orders.
The years from 1981 until 1994 are still unknown. Skamper continued to manufacture and produce trailers but no facts are known. It is known the company remained under its own ownership. I assume that Stephen T. Decker remained the owner until the company sold.
Thor Industries, Inc. was founded on August 29, 1980, when Wade F. B. Thompson and Peter B. Orthwein acquired Airstream. On March 1, 1995 Thor Industries acquired the business and assets of Skamper Corporation with sales of $14 million in 1994. It appears that after moving operations around a bit among its subsidiaries Thor discontinued the Skamper pop-up camping trailer in 2003. The Skamper trade name lives on in other RV's manufactured by Thor.
Lee E. Markel died on November 15, 2007 at the age of 85. Raymond F. Kennedy died on February 4, 2003 at the age of 60. Stephen T. Decker died on January 23, 2012 at the age of 67."
Share your classic RV restorations, or tell us your favourite story about a cool vintage unit you've encountered by filling out our Classic Vintage RV form.