Vintage RV: Roadside Relic—1980's Vanguard Class A Motorhome
Vanguard built units suitable for first-timers and more experienced mobile vacationers.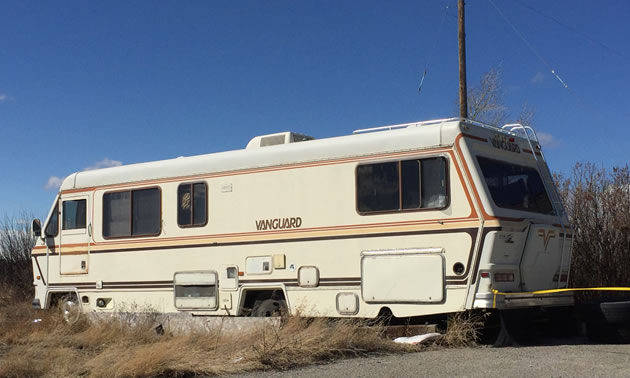 Vanguard was a famous brand name in the annals of Canadian RV manufacturing though Vanguard was seemingly better known for its lineup of travel trailers and campers rather than their Class A motorhomes. However, as indicated by this posted classified ad, these big, bulky motorhomes definitely came well-equipped.
"Late 1980's Vanguard Motorhome 28-Ft Class-A Motorhome. Very well built motorhome (made in Canada), body is in great shape and runs like a top. We took it to Dawson City, Yukon last summer and had no major problems, other than the dash air and power step quit working. 454 Chev engine, drivers door, back bed with new mattress (never slept on), furnace, dinette, 2 rocker/recliners, front seats swivel to the back, roof and dash air, TV over front seats (we've never used), toilet & sink (in own room) shower across from it, fridge/freezer 3-way, hot water (propane or electric). Onan Genset. Large awning in good shape, lots of outside storage."
NADA Guides makes this comment about Vanguard motorhomes, "Constructing a wide variety of recreational products during the mid-1980s, Vanguard built units suitable for first-time and more experienced mobile vacationers. Building Class A as well as Class C motorhomes ranging from 18 to 35 feet in length, Vanguard also created travel trailers, fifth wheel trailers and truck campers. Vanguard production lasted for three years ending after the 1986 model year."
According to one historical source, "Vanguard Trailer Limited started production in 1970 with 200 employees—a number that has fluctuated to a high of approximately 600 employees in 1978; production decreased and only 200 people are presently employed with more lay-offs threatened because of the prevailing economic situation."
It is difficult to determine whether the Vanguard Class A motorhomes were actually built in Winfield, B.C., (Neonex had multiple manufacturing location in western Canada at one point in time) though Winfield (just north of Kelowna) seemed to be the primarily manufacturing operation of Neonex Shelter Industries back in the 1970's.
The Winfield manufacturing plant produced trailers and camper, as well as the so-called "Winfield Bolers,"—the popular little egg-shaped fibreglass units.
So we have to conclude this Vanguard Class A motorhome is a bit of a rarity and were possibly, (likely?) built at the Winfield facility, too.
Do you have any more information on Vanguard Class A motorhomes? Share your classic RV restorations, or tell us your favourite story about a cool vintage unit you've encountered by filling out our Classic Vintage RV form.