Vintage RV — 1970's GMC Motorhome, once called a "halo" vehicle for GM
Keep your eye peeled for those eye-catching and classic GMC motorhomes.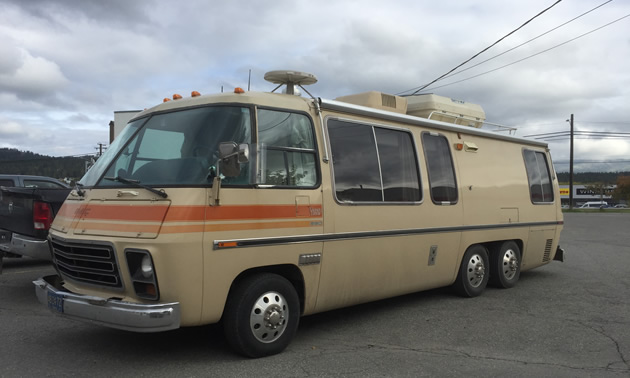 Every once in a while I come across a vintage GMC motorhome (like this one parked in front of a local business recently) and they always catch my eye. Like all vintage motorhomes and trailers, they have their enthusiastic followers and raving fans.
The GMC motorhomes have such a group called the GMCers. Here's some of what they state about the classic GMC units:
"Back in the late 60's and early 70's, fuel was cheap and the family tradition of long driving vacations was in full bloom. Some used the mammoth station wagons of the day, but even after piling luggage on the roof they still didn't have enough space. And they were still bound to hotels and prevented from camping, unless they were willing to live in tents. Many motorhome companies blossomed as a favorite choice for experienced road travelers.
"Enter GMC. GMC, as the truck division of General Motors, became eager to trade their long-term expertise in building highway and transit buses to go after the consumer market. And they needed a halo vehicle—a vehicle on which they could build their image. Even the owner of the most basic Chevrolet feels a little prouder because Chevy also makes the Corvette. As the Corvette was the halo vehicle for Chevrolet, GMC wanted something that would give the truck division a little panache.
"But it couldn't be just another box on a truck chassis—there is no panache in that.
"So, they designed and built what is still the only motorhome that was entirely designed and built by a major automotive manufacturer.
"The GMC Motorhome is a front-wheel-drive vehicle. It traded on the experience developed by General Motors with the Oldsmobile Toronado and Cadillac Eldorado. The engine is mounted conventionally but the transmission is mounted alongside the engine instead of behind it, and it is connected to the engine by a large chain drive. The axles go to the front wheels under the forward part of the engine.
"And this was the era of big engines. The GMC was initially outfitted with the same engine used in the Olds Toronado—a 455-cubic-inch V8. That's 7.4 liters. In the last year of production, they downsized to a "small" engine, a 403 cid V8."
Put "GMCers" in your search engine to find out more and keep your eye peeled for those eyecatching and classic GMC motorhomes.
Share your classic RV restorations, or tell us your favourite story about a cool vintage unit you've encountered by filling out our Classic Vintage RV form.