5 Tips for vintage RV restoration: Breathing new life into old campers
A few useful tips for restoring classic RV units to their former glory.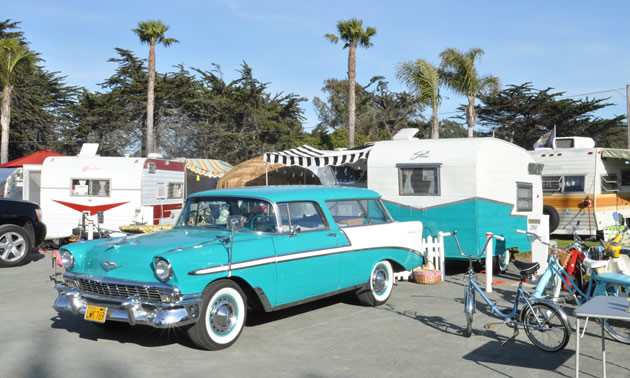 RVers tend to branch off into different areas of interest - but there is one niche group that everyone enjoys seeing at campgrounds. I'm talking, of course, about vintage restoration enthusiasts. Perhaps you've seen one of their decked-out Bolers, or restored luxury motorhomes, and you wondered about taking on a project like that yourself.
It warrants mentioning that vintage RV restoration can be quite an undertaking. You will spend a great deal of time on DIY repair work (or costly repairs done by others, if you don't have the expertise). It can also be difficult to find original parts, not to mention expensive.
That being said, if you commit to the project with the right skill and resources, the results will be worth all the blood, sweat and tears.
1. Look into the cost of RV towing before agreeing to buy
You may find a great classic motorhome or a cool vintage camper that is not in safe shape to take on the road (yet). If this is your situation, you will need to have the unit towed to your location. Price out the towing for your specific type of RV (some may need a flatbed), to avoid a nasty surprise later.
2. Give the camper or motorhome a good visual inspection
Take a look at the unit, inside and out, and keep an eye out for water damage, rodent droppings/damage, leaks and soft spots in the floor or walls. Don't forget to use your nose, too. Smells can reveal everything from infestations to mold (or even a propane leak).
3. Inspect the RV's electrical system thoroughly
Before you make a purchase, get the owner to plug the trailer in if possible, so you can test out the outlets. This is important, because electrical problems can be difficult to deal with once the RV is in your hands. Be prepared to spend a good chunk of change if you want to take on a vintage RV with major electrical problems
4. Make sure the propane lines are working
If you plan to use propane, it's a good idea to do a "
soap test
" on the lines of each appliance to make sure there are no leaks. If there are, however, don't despair. Some RVers simply forego the use of propane and use an electric heater and ice box instead.
5. Look into the RV braking system
Be sure to inquire about the camper's electric braking system. If it doesn't work, that could pose a significant safety risk - especially for those towing with a smaller vehicle.
Share your classic RV restorations, or tell us your favourite story about a cool vintage unit you've encountered by filling out our
Classic Vintage RV form
.