Vintage RV: 1990's Lil Bigfoot (Boler-style) Trailer
Most Lil' Bigfoots seem to date from the 1980s and 1990s and appear to be moderately common.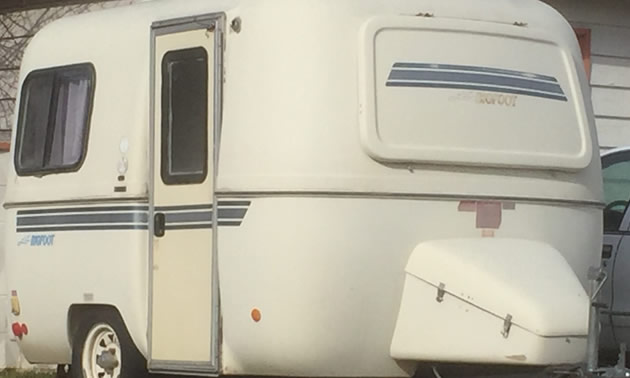 I recently stumbled across this little Lil Bigfoot sunning itself in a driveway in Southern Alberta. It definitely looks all ready for another camping season, with the snow melted around it and the green grass starting to poke through.
Chris Doering and Connie Biggart, of Calgary, are the creative force behind the extraordinary website "Off the Beaten Path." They often document stories and photos of Boler trailers and the like that they encounter on their travels. Their website is www.bigdoer.com – if you'd like follow their adventures and admire their great photos.
Here are their comments about the classic Lil' Bigfoot trailers. They write, "Of all the little fibreglass trailers out there from the throngs of manufacturers that did or do make similar looking or similarly sized RVs to the Boler, the Lil' Bigfoot by Bigfoot RV stands out as the most look-alike of all. It's a near carbon copy, almost a clone. From a distance, it'd be hard to tell it from a Boler and only up close can the differences be noted – squared wheel wells for the Bigfoot versus rounded for the Boler, somewhat different window treatments, that fairing over the hitch (I've seen some Bolers with them). Otherwise, from the side, front or back, they cut almost the exact same profile.
Most Lil' Bigfoots seem to date from the 1980s and 1990s and appear to be moderately common. I understand, Bigfoot once made Bolers under contract, so perhaps these commonalities are not by accident. Maybe they reused the Boler forms? Bigfoot of Armstrong, BC is still in business and today make truck campers and trailers, but none as small as this one.
Chris and Connie add this about the Boler trailers: "Boler: A small cute-as-a-bug fibreglass travel trailer made in Canada in the 1970s and 80s. Very collectible and we make a fun game spotting them on road trips. We also include other similar trailers here, those from other manufacturers who are close in appearance or in configuration to Bolers."
Ever owned a Lil' Bigfoot? Do you have a vintage RV story or photo? Share them with us — [email protected]