Vintage RV: Only in Minnesota—27' Airstream ice house rental
If you're looking for an authentic Minnesota winter experience, this converted Airstream trailer might work.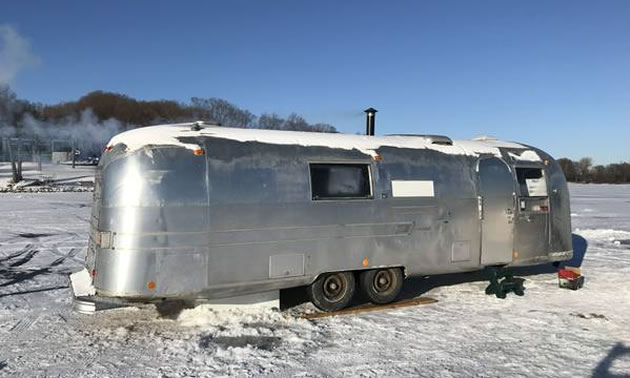 We usually don't resort to pulling images off the internet for our Vintage RV column, but my wife (a native of Minneapolis) forwarded me this posting that I couldn't let slide by—especially with the Super Bowl that was recently held in the Twin Cities.
This looks like about as an authentic Minnesota winter experience (brrrrr) that you could ever find—ice fishing, an ice house and all with a vintage RV twist.
You have to check out this 27' Airstream trailer "ice house" rental opportunity on Lake Minnetonka – 30 minutes from downtown Minneapolis and, of course, Vikings Stadium where the Super Bowl was played.
Here's how the ad originally appeared on Craigslist:
"As the Super Bowl approaches I will be renting out a 27 foot Airstream that has been converted into an ice house. It will be $800 for the day (8 hours of fishing). Bait, rods and sonar units will be included—all you have to do is show up. Someone will be there to help you get all set up and show you how to fish!"
Only in Minnesota, u betcha! And bait, rods and sonar unit included! No news on whether any avid football/ice fishing fans actually rented the vintage Airstream trailer—all I can say is brrrrr!
Share your classic RV restorations, or tell us your favourite story about a cool vintage unit you've encountered by filling out our Classic Vintage RV form.