Vintage RV: 1975(?) Diplomat II Motorhome (complete with bucket seats)
"Escape in the Diplomat II. You'll get away with it." was the tag line for these luxurious motorhomes.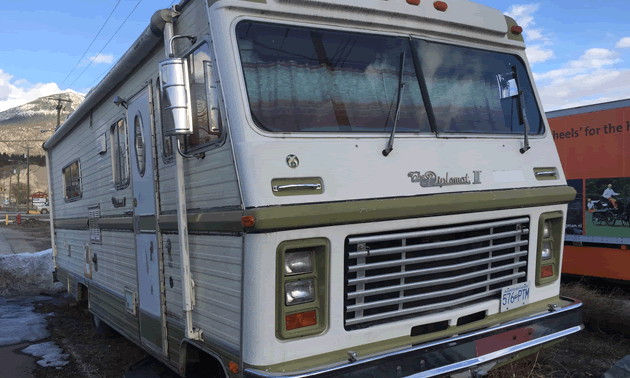 Last week I spotted a vintage RV unit languishing in a parking lot, so I stopped to check it out. Turns out it was a 1975'ish Diplomat II made by Executive Industries. The unit was recently licensed and looked to be in running order.
So what's the story of the Diplomat II motorhome?
"Escape in the Diplomat II. You'll get away with it." – so read the headline in a Diplomat II print ad which appeared in the 1975 edition of Motorhome magazine, for the luxurious line of motorhomes produced by Executive Industries of Anaheim, California.
The ad continued: "Take a recess from the everyday, relax with bucket seats, cruise control, a glare-free instrument cluster and panorama visibility. Free and easy travel features that could only be produced by the leading quality motorhome manufacturer."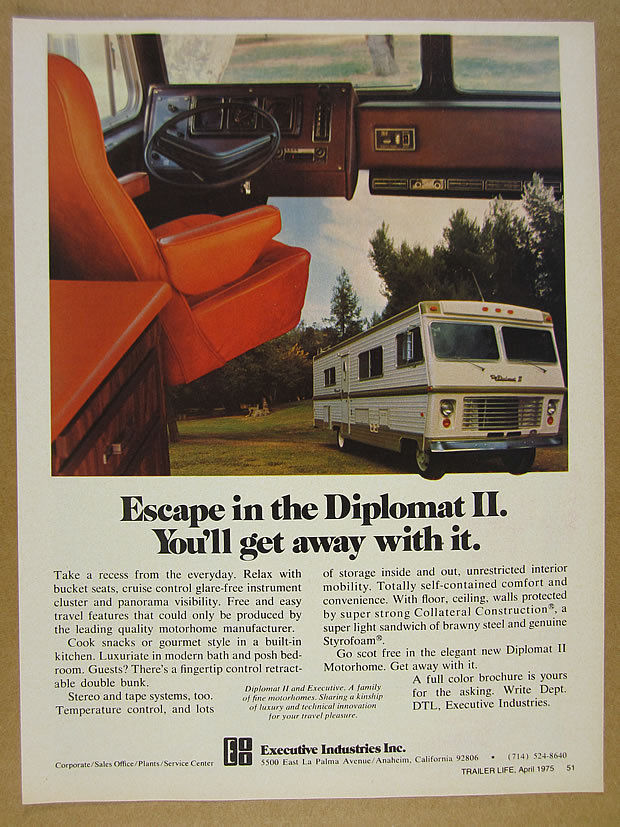 Some of the other amenities that the 1975 Diplomat typically sported included:
Built-in kitchen
Modern bath
Posh bedroom
Retractable double bunk
Temperature control
Lots of storage, inside and out.
Unrestricted interior mobility
Super-strong Collateral Construction
Super-light sandwich construction of brawny steel and genuine Styrofoam.
Nada Guides says this about the motorhome: "Becoming a full lineup of motorhomes, the Diplomat name first came on the market in the early 1970s under Executive Industries. Executive and the Diplomat name were eventually acquired by Monaco Coach Corporation. Having built Class C motorhomes, Diplomat spent the 1980s building larger Class A motorhomes ranging from 24 to 40 feet in length. The Diplomat name was discontinued after the 1988 model year replaced by the Executive moniker."
Have you ever owned a Diplomat II motorhome? Share your classic RV restorations, or tell us your favourite story about a cool vintage unit you've encountered by filling out our Classic Vintage RV form.