Vintage RV: 1974 Chevrolet Conestoga
Thanks for sharing Randy and we hope your "Conestoga" motorhome serves you well for many years to come.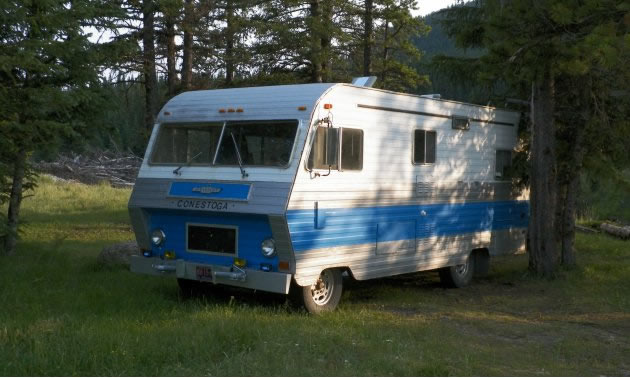 Here's an interesting vintage RV photo we received from a reader. He calls it a Chevrolet Conestoga. We are unsure if this is just his nickname for the unit or if it is, in fact, the brand name. Our search didn't reveal General Motors ever producing such a branded motorhome, though they did produce a luxury futurist-looking motorhome until 1978.
Hemmings Motors magazine says this about the GMC motorhomes of the 1970's, "The power plant of the GMC Motorhome certainly clashed with conventional motorhome propulsion layouts, but it was the key element in meeting the design requirements of what would become America's most sophisticated recreational vehicle in 1973. Thinking out of the box, GMC dipped into the well of GM powertrain choices, and chose not a truck drivetrain, but rather one from a car: the Oldsmobile Toronado 455-cu.in., 265hp V-8, complete with its front-wheel-drive setup. Placing the engine and transmission in front of the motorhome meant not having to make space for big rear-drive truck drive shafts and bulky fixed rear axles that would usually run through the width of the coach."
However this unit is not be confused with the actual Conestoga RV line – according to NADA guides: "Conestoga built travel trailers, fifth wheel trailers and truck campers for more than a two-decade period. Building truck campers as short as 8 feet, the fifth wheel vehicles produced by Conestoga span up to 29 feet in length. Conestoga fifth wheel trailers would be incorporated into the Traveline brand after the 1986 model year. The final Conestoga truck camper was built during 1987."
Here is what RVwest reader, Randy Filipovic, said about his unit:
"This is my 1974 Chevrolet Conestoga. She is built on a ton and a half chassis (so I was told) and she comes equipped with a 350 and automatic transmission," said Filipovic, "Since this photo I have completely redone the interior in a Bohemian/Romanian Gypsy trailer design. I'm surprised how well she travels down gravel roads and in the back country."
He added, "I found this nice little spot by the river and set up camp. Her 22 ft. body gives my dog and myself ample room to cook and sleep."
Thanks for sharing Randy and we hope your "Conestoga" motorhome serves you well for many years to come.
Share your classic RV restorations, or tell us your favourite story about a cool vintage unit you've encountered by filling out our Classic Vintage RV form.