Vintage RV – 1970's Vandura Motorhome
Okanagan RV, whose assets were eventually bought out, was one of the biggest manufacturers – making Class C, Class B, trailers and truck campers.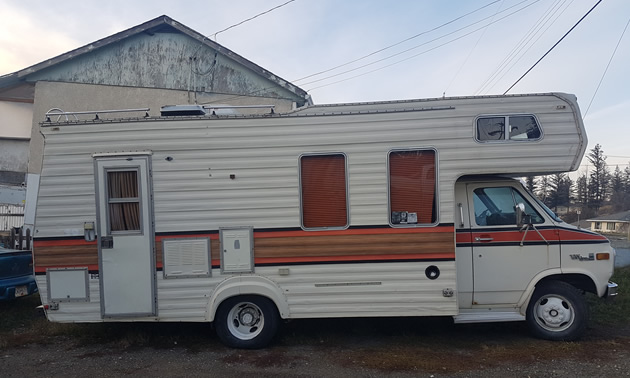 We heard from Rod Bell of Williams Lake recently about his vintage RV renovation project. Seems like Rod obtained this Okanagan RV Vandura motorhome via a trade for a Jetta, with 567K on it.
Rod writes, "This unit needs some heavy TLC with mileage sitting at 90,500. It has a 350 Chevy engine and has been having some issues over the years. We were told that an older guy had lived in it for some years and rebuilt the interior to suit his needs."
The Okanagan RV Vandura unit looks good from the outside and as we told Rod – there is nothing like a RV reno project to keep you busy – and it appears that Rod's got his hands full with this project.
He promises to keep us updated on his project.
Here's some information we previously gleaned on these units.

"Okanagan RV, whose assets were eventually bought out, was one of the biggest manufacturers – making Class C, Class B, trailers and truck campers. Others included General Coach and Citation trailers and RVs built in Oliver. Bigfoot, in Enderby, was once a huge RV manufacturer – though the company has been revived on smaller scale it seems to keep a pretty low profile these days. Northern Lite campers continue to be manufactured in Kelowna.

(Its) an unique model which was manufactured by Okanagan Industries—it's a Class C motorhome called the Kokanee, I think the year is somewhere in the 1974 to 1978 range. These over-the-cab units are still popular with RVers and those who like a home on wheels."
Can you shed some light on the RV manufacturing industry in the Okanagan's past? Do you have a vintage Okanagan RV story or photos to share? Email: [email protected]