Vintage RV: 1970's 15 foot Bell Travel Trailer
The Bell trailer is a true made-in-Montana original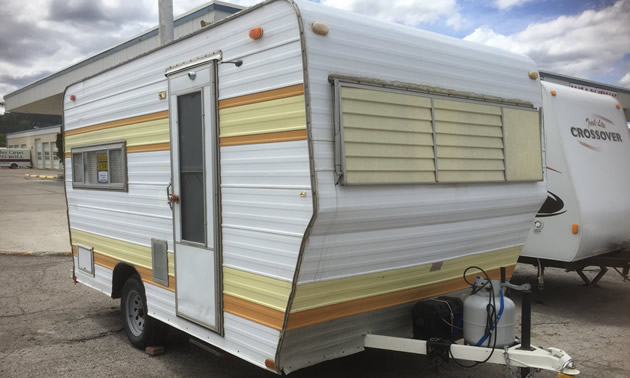 We don't see too many made-in-Montana travel trailers, but here is an example of one we recently discovered. Evidently Bell trailers and campers were manufactured in Kalispell, Montana back in the 1970's (late 1960's?) – the golden era of travel trailers.
According to NADA Guides, "Bell truck campers and trailers were produced during the 1960s through to the mid-1970s. With trailers as small as 13 feet in length, the Bell range of recreational products are well suited to weekend vacationing."
We came across a couple of "for sale" listings that provide some insight into the Bell lineup of travel trailers:
Made in Montana '75 Bell Classic Vintage Trailer/Camper
"Travelin' Gypsy Wagon" – A very rare find made in Kalispell, Montana '75 Charmer! Bells are known as being very sturdy. 11 ft (14 ft with tongue) X 7 ft wide X 8.5 ft high. My husband and I bought "Baby Bell" last spring with the intentions of keeping her, but with our own baby on the way this summer, we have decided to let her go. Original 1975 body and components.
Made in Montana '71 Bell Classic Vintage
"Dream a Little Dream" – A very rare find made in Kalispell, Montana '70's Charmer - Cute as a Button! Bells are known as very sturdy. 13 ft (16 ft with tongue) X 8 ft wide X 8 ft high. Sparkling clean, all original! Our family of 5 loved our "Baby Bell" for 25 years but kids have grown, owner retired out of state. Has only been trailered locally. Sleeps up to 6. Large and roomy inside with ceiling height 6′ 3″. Tons of inside storage with very large broom closet & additionally an outdoor access wood box for holding axe, wood, marshmallow roasting sticks, jacks, towing bar, etc.
Other than this photo which we snapped on a sales lot in Kalispell, Montana, where we stumbled across this little 15 foot Bell trailer, we can't tell you too much about this fairly obscure line of travel trailers.
Do you have more information on Bell trailers and campers that you can share? Have you ever owned a Bell trailer? What is the history of the Bell manufacturing plant in Kalispell, Montana? Can you share any insights?
Let us know by email: [email protected]