Vintage RV: 1970/80's GMC VanDura Class B Motorhome
Vanguard was a famous brand name in the Canadian RV manufacturing world back in the 1970s and 1980s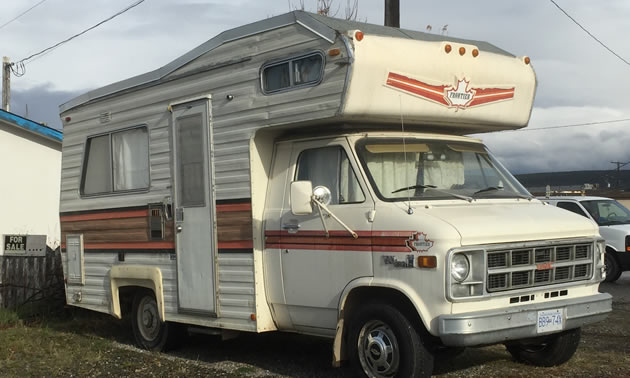 Here's a Class B van conversion based on a 1970/80's GMC VanDura chassis. These little van conversions were popular with RVers looking for mobility and flexibility in their travel and camping.
According to NADA guides, Frontier motorhomes entered the recreational product market in the 1980s under Vanguard Manufacturing. Frontier sold Class C motorhomes and truck campers throughout its time in business. Frontier was also involved in the construction of fifth wheel and travel trailers during the 1984 and 1985 model year. Adding Class A motorhomes alongside their Class A models in 1985, Frontier motorhomes ranged from 18 to 30.5 feet in length. Frontier concluded production after the 1986 model year.
One source stated, "Vanguard Trailer Limited started production in 1970 with 200 employees (in Winfield, British Columbia)—a number that fluctuated to a high of approximately 600 employees in 1978; production decreased and only 200 people are presently employed with more lay-offs threatened because of the prevailing economic situation."
It is difficult to determine whether this Vanguard Class B motorhome was actually built in Winfield, B.C. – though it would appear likely it was.
Neonex (owner of the Vanguard and Frontier lines) had multiple manufacturing locations in Western Canada at one point in time and Winfield (just north of Kelowna) seemed to be the primary manufacturing operation of Neonex Shelter Industries back in the 1970s.
Vanguard was a famous brand name in the Canadian RV manufacturing world back in the 1970s and 1980s, though Vanguard was seemingly better known for its lineup of travel trailers and campers rather than their Class A or B motorhomes.
What about the VanDura side of the equation? That was GMC branding. According to a reference from Wikipedia: "In 1971, Chevy Van received a major redesign, moving the engine forward of the driver with a short nose and hood. The van was constructed of a unibody style frame and employed stronger truck style hubs and brakes with dual A-Arm independent front suspension. The major restyle followed the engine-forward design of the competing 1968 Ford Econoline. Suspension and steering parts came from the Chevrolet C/K. GMC now marketed their vans under the VanDura name. These models between 1978 and 1995 were popular with Van conversions such as Curtis and Starcraft." And might we add Vanguard/Frontier as well.
Share your classic RV restorations, or tell us your favourite story about a cool vintage unit you've encountered by filling out our Classic Vintage RV form.