Vintage RV: 1960's Mercury Travel Trailer – "Ask the man who TOWS one"
A selling point for Mercury trailers were the catchy little ad slogans that the company introduced.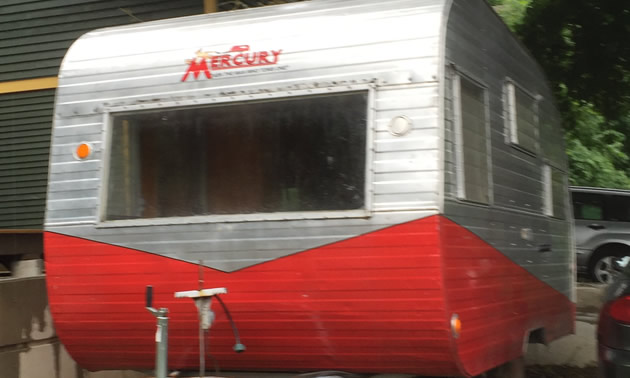 I came across this vintage travel trailer tucked away on a leafy side street in Nelson, B.C. The Mercury Travel Trailers were manufactured by Mercury Trailer Industries of El Monte, California.
It seems like this area was a popular hot bed for early RV trailer manufacturers, possibly because they were a spinoff of the aluminum aircraft manufacturing plants that were downsizing because of the end of WWII.
For example, one similar company was called Modernistic Industries and they made Aljoa Trailers. Here's one comment, "Modernistic Industries and Aljoa trailers. . . was the name of the trailer manufacturing company under the parent company, Modernistic. (The owner) started his business in 1945 in Watts, CA on 109th and Central in a building that only had three walls. He called in a favor from a friend that he worked with at an aircraft plant that built center turret sections of the B-17 among other things. The building was owned by his friend and he asked him if he knew of a building he could rent to start his business."
These cool little trailers had a great line up of ad slogans like: 'Ask the man who TOWS one,' 'You see them everywhere,' 'We invite your companion for dollar-for-dollar value' and 'Skip the highways—travel the byways.'
In the late 1950's Mercury offered the 15 ft. standard, 15 ft. deluxe and 18 ft. deluxe models. Here's how one brochure described the units: "Features of this small trailer include a four-burner cooking plate, a separate built-on oven, louver windows, a full 52" width bed, a butane light and tank, a water tank, and quality construction throughout. Trailer companies are quick to take the newest innovations in design and incorporate them into their models. This Mercury is a self-contained unit."
So we would like to ask the man who towed one, what were your impressions of the Mercury Travel trailer?
Do you have a Mercury Trailer story or any other vintage RV story to share? [email protected]