Vintage RV: 1950's Cozy Cruiser Travel Trailer
The Cozy Cruiser trailers were the predecessor to the popular Shasta Trailer line
This is a great looking little vintage trailer we stumbled upon recently — a 1950's Cozy Cruiser. Let me tell you "cozy" is the optimum word here – these little vintage trailers are very compact – but finished and equipped impeccably. This one was for sale outside a vintage/antique shop in Whitefish, Montana.
Evidently they were the predecessor to the popular Shasta Trailer line and were built by a man named Robert Gray – targeting the booming GI market after the end of World War II.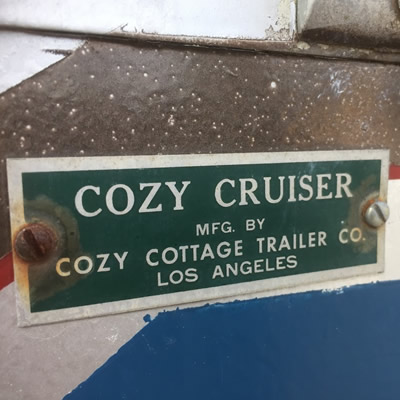 According to one vintage trailer website, "In 1941, Robert Gray began manufacturing his trailer for use as mobile housing for the military. The trailers had to be rugged yet comfortable and Gray's trailers were just that."
As World War II ended, many of the GIs who used these trailers were looking for an inexpensive means of recreation for them and their young families. Many had grown fond of the mobile houses that were used during the war and many manufacturers, including Gray, were able to benefit from this "love affair".
Switching his focus to retail sales of his trailer, Gray sold the camper under the name of Cozy Cruiser. He manufactured them in the factory where he produced the military version in Los Angeles, CA.
In 1952 he changed the name to Shasta and moved production to Van Nuys, CA. The public fell in love with the Shasta Camper, which offered models from 14' to 35'. Demand for the Shasta was so great, that in April of 1958 they opened a second factory in Goshen, In."
A bit more background from the Tin Can Tourist site states, "The Shasta Trailer Company started out in 1941 by building mobile home trailers for the US Armed Forces in a Los Angeles, California plant. After WWII, they sold mobile homes under the Cozy Cruiser brand. 1952 was the first year for the Shasta brand to roll off the assembly line in Van Nuys. Models from 14′ to 35′ were offered. The boom in mobile homes and travel trailers was in full swing and the public couldn't get enough of the Shasta brand. In April of 1958, Shasta opened the Goshen, Indiana plant to keep up with demand."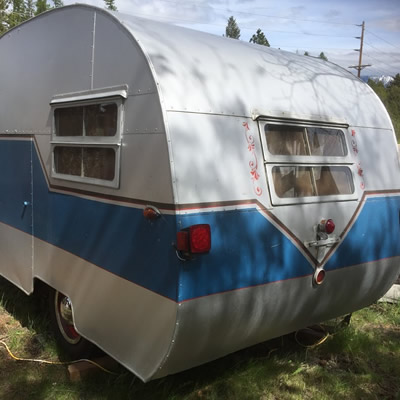 Another site notes, 'The Shasta (Cozy Cruiser) story began in 1941, when Californian Robert Gray built the first Shasta "house trailer" to be used as mobile military housing. Shasta was, and remains, an important player in the ultimate American Dream; the freedom and desire to roam, explore and enjoy well-earned leisure time with the people we love.
In the 1950s and 60s, the toaster-on-wheels look of the original Shasta trailer was the most recognizable shape on the road, distinguished by those wings that signified flight and freedom. As the years continued Shasta continued to evolve into a safer, more sophisticated home away from home with more comfort and features than ever before."
Do you have a vintage RV story? Did you ever own a Shasta or Cozy Cruiser? Share your story and memories with us: [email protected]